DORS/DDA Joint Staff Development Day
On June 26,  The Division of Rehabilitation Services (DORS) and  The Developmental Disabilities Administration (DDA) held their first joint staff development day with staff from both agencies at the DDA Southern Maryland Regional Office.
Back in June of 2018, DORS and DDA signed an updated Memorandum of Understanding (MOU) between the two state agencies, seeking to closely align and collaborate in order to increase competitive integrated employment outcomes for people with developmental disabilities in Maryland.   Part of the updated MOU includes identifying ways to increase our collaboration.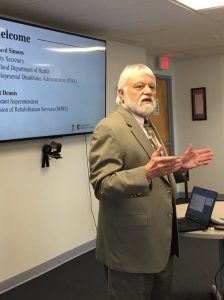 DDA Deputy Secretary Bernard Simons
This staff development day brought together DDA regional office staff as well as regional DORS office staff, as well as supervisors, provider relations staff and agency leadership.  The day started off with opening remarks from DDA's Deputy Secretary, Bernard Simons and DORS' Assistant Superintendent, Scott Dennis. Both stressed the importance of strong communication and collaboration across state partners as an path to increasing employment for people with disabilities in Maryland.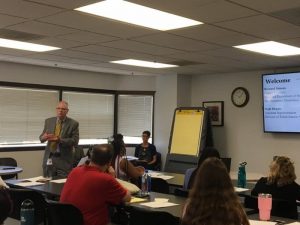 DORS Assistant Superintendent,  Scott Dennis
The rest of the day focused on capacity building among regional staff to better understand how each of the partner agencies work and how they can work together to support job seekers and joint service providers.  Time was spent identifying existing gaps that can jointly be addressed moving forward.
DORS and DDA are planning an upcoming joint webinar to update stakeholders on the collaboration efforts and provide guidance and technical assistance regarding service delivery.