2019 APSE Conference- St. Louis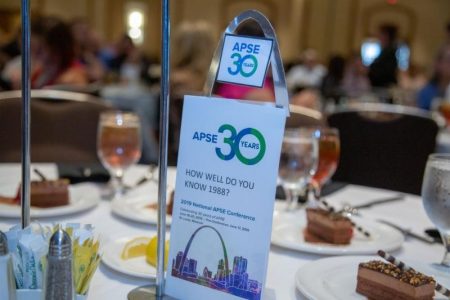 The Association of People Supporting Employment First (APSE) held their 30th national conference June 18-20 in St. Louis, Missouri.  APSE  is the only national conference focused solely on the advancement of Employment First.
Every year , the APSE National Conference brings together over 1,000 community leaders, businesses, individuals and organizations impacted by Employment First – people with disabilities and their families, service providers, universities, rehabilitation counselors and state agency personnel.
This year's conference theme was "Gateway to Inclusive Employment" and was held near St. Louis' iconic Gateway Arch.
Subject matter experts and guest speakers from across the country presented to attendees on multiple topics related to Employment First.  Themes included: reflections on progress since the first APSE conference 30 years ago, the use of technology to support employment and diversity, capacity building initiatives, employer engagement, public policy updates and systems change initiatives.
A number of people from Maryland attended the conference, including staff from provider organizations and state agencies.  Maryland DDA Employment provider, SEEC was nominated for the Best Practice-Organization award. Staci Jones, DDA's Statewide Career and Employment Services Coordinator was nominated for the Public Policy Leadership award.
Next year's 2020 conference is set to take place June 16-18 in Denver, Colorado.
For more information about APSE, visit their website www.apse.org