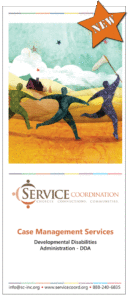 We provide quality information and helpful options that can guide people to resources of their choice, ultimately supporting their decisions to connect to available resources. We provide our case management services to individuals residing in the Southern, Central and Western Regions of Maryland.
Assess: We listen to and observe each person to learn what is important to them. We assist people to determine where support is needed or desired.
Plan: We support the development of plans that are tailored to each person's wants and needs. We examine the seven life areas of: health, home, relationships, money, work, school and leisure.
Connect: We identify and access resources. We build relationships within the community.
Monitor: We ensure that people are getting the services and supports detailed in their plans. We safeguard each person's rights and health and safety.
Advocate: We educate, inform and support people to make choices and decisions. We partner with other organizations and agencies to develop a broad network of supports and services.
SCI provides case management services, also known as resource coordination and service coordination.
Forensic population

People in state hospitals

Mental health population
SCI provides case management services for these areas:
Crisis resolution

Crisis prevention

Current request

Eligibility and Access

Transition service

Community coordination
Service Coordination connects individuals to available community services.
Respite Care

Adaptive Equipment

Therapy 

Academic needs

Social needs

Utilities support

Medical support
Eviction prevention

Nourishment assistance

Federal/state benefits

Future planning

Assistive technology


Community involvement
Service Coordination, and specifically our coordinators, work daily to identify the wants and needs of individuals and then learn to identify possibilities, navigate resources and adapt plans accordingly.
As new challenges arise from the transition to the new Targeted Case Management resource coordination system in Maryland, we remain vigilant and proactive to identify and evaluate them. We are quick to identify organizational needs and best practice, and learn to navigate available opportunities while brainstorming for new possibilities. This is often the keystone of the daily work that coordinators do and our experience guides us towards continued development.
​Education plays a large role in our continued development. We educate ourselves as well as other stakeholders so that together we can grow effectively. This education process reinforces our philosophy that community relationships are the foundation of our work and effective communication of information is imperative for collaborative successes.
Adaptation is also a core component woven into the culture of Service Coordination that is vital to driving solutions, both with individuals and as an organization. Our service coordinators have worked to identify and modify plans to navigate opportunities for the last 30 years.
​Our organizational values stem from the main principle that people come first. We apply this virtue to assure that our service levels remain the best of quality for those in need of case management in Maryland. We continue to hone our services and remain grateful for our extensive experience that will guide us to inherent development, ultimately providing quality case management service for individuals who count on us for support.