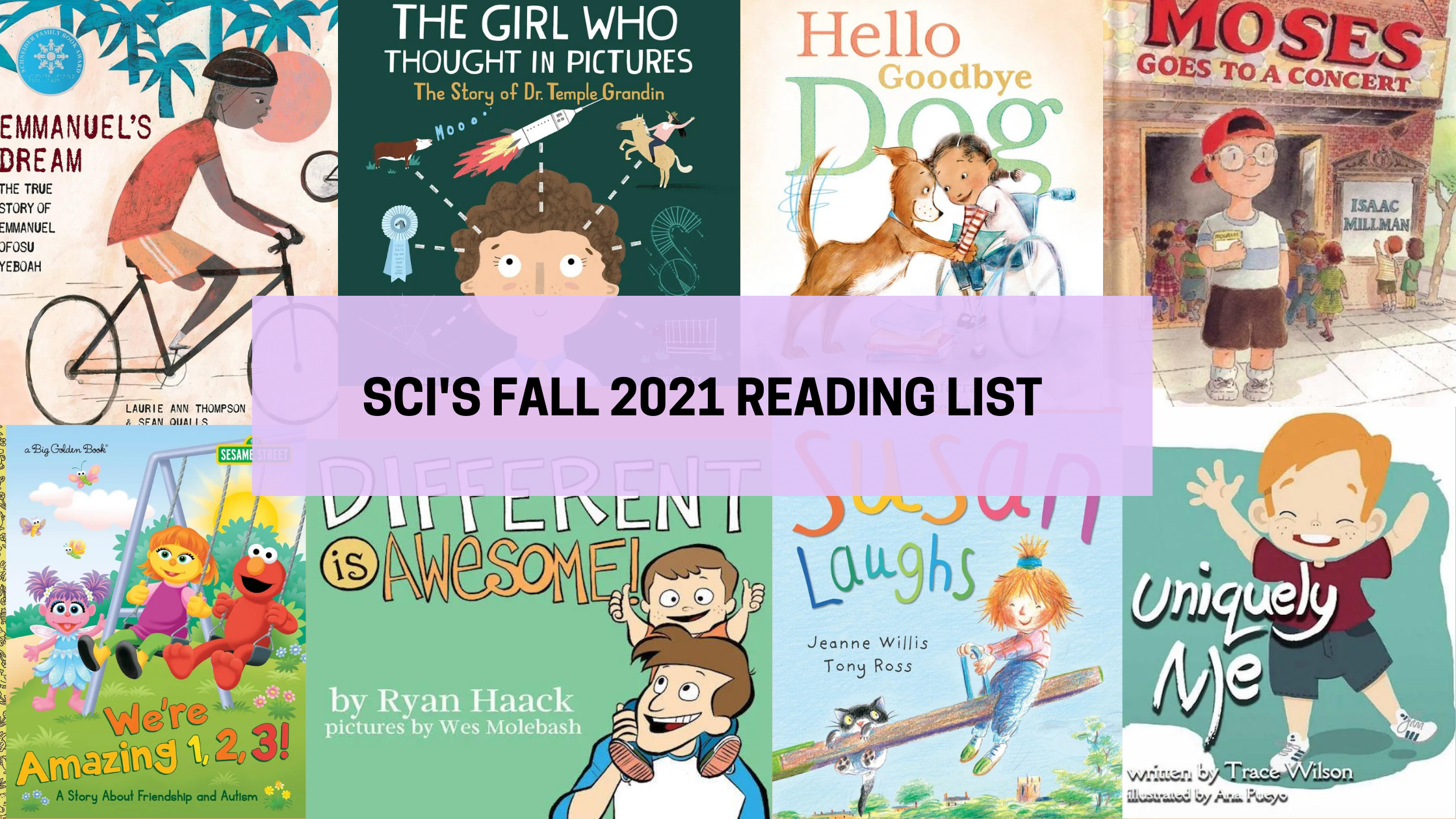 October is here – do you know what that means? We are in full swing with Back to School! The fall season is all about teachers and the children they teach so we have decided to focus on that with this reading list! All of the characters featured have a disability in this reading list focused around children's books to have both at home and in the classroom.
We have put together some great reads for you and your child as you prepare for in-person learning with our final summer reading list for this last month of summer. If you missed our final Summer Reading List, be sure to check it out here.
Uniquely Me by Trace Wilson
"Every child worries about being different. Follow one brave little boy as he embarks on a wild adventure and learns to understand, accept, and love the differences that make him unique." SOURCE
Susan Laughs by Jeanne Willis
"Told in rhyme, this story follows Susan through a series of familiar activities. She swims with her father, works hard in school, plays with her friends — and even rides a horse. Lively, thoughtfully drawn illustrations reveal a portrait of a busy, happy little girl with whom younger readers will identify. Not until the end of the story is it revealed that Susan uses a wheelchair. Told with insight, and without sentimentality, here is an inspiring look at one spunky little girl whose physical disability is never seen as a handicap." SOURCE
We're Amazing 1, 2, 3! by Leslie Kimmelman
"We're Amazing 1,2,3! is the first Sesame Street storybook to focus on autism, which, according to the most recent US government survey, may, in some form, affect as many as one in forty-five children. It's part of Sesame Street's autism initiative that has expanded to include a new character with autism. Elmo introduces his longtime friend Julia to Abby, who's a little confused at first because Julia isn't saying hello. Elmo explains that Julia has autism, so she does things a little differently. Julia sometimes avoids direct eye contact, flaps her arms when she's excited, and is sensitive to some noises. But Abby soon learns that she also has a lot of things in common with Julia. All kids want love, friendship, and to have fun! They are all wonderful, each in his or her own way." SOURCE
Different is Awesome! by Ryan Haack
"A little boy brings his older brother, born with one hand, for show-and-tell. The students ask him all sorts of questions about how he does things with one hand and realize that he can do anything they can do, he just does it differently. Along the way, they notice that we're all different in one way or another, leading to the realization that not only are differences a similarity we all share, but, they are what make us unique – AND AWESOME!"  SOURCE
Moses Goes to a Concert by Issac Millman
"Moses and his school friends are deaf, but like most children, they have a lot to say. They communicate in American Sigh Language, using visual signs and facial expressions. This is called signing. And even though they can't hear, they can enjoy many activities through their other senses. Today, Moses and his classmates are going to a concert. Their teacher, Mr. Samuels, has two surprises in store for them, to make this particular concert a special event. You can learn sign language, too! At the end of the book are two full conversations in sign language and a page showing the hand alphabet." SOURCE  
The Girl Who Thought in Pictures by Julia Finley Mosca
"If you've ever felt different, if you've ever been low, if you don't quite fit in, there's a name you should know… Meet Dr. Temple Grandin―one of the world's quirkiest science heroes!"  SOURCE
Hello Goodbye Dog by Maria Giannferrari
"For Zara's dog, Moose, nothing is more important than being with her favorite girl. So when Zara has to go to school, WHOOSH, Moose escapes and rushes to her side. Hello, Moose! Unfortunately, dogs aren't allowed at school and Moose has to go back home. Goodbye, Moose. But Moose can't be held back for long. Through a series of escalating escapes, this loyal dog always finds her way back to Zara, and with a little bit of training and one great idea, the two friends find a way to be together all day long."  SOURCE
Emmanuel's Dream by Laurie Ann Thompson
"Born in Ghana, West Africa, with one deformed leg, he was dismissed by most people—but not by his mother, who taught him to reach for his dreams. As a boy, Emmanuel hopped to school more than two miles each way, learned to play soccer, left home at age thirteen to provide for his family, and, eventually, became a cyclist. He rode an astonishing four hundred miles across Ghana in 2001, spreading his powerful message: disability is not inability. Today, Emmanuel continues to work on behalf of the disabled." SOURCE
The admirable characters in these books are a great representation of the obstacles that children with disabilities overcome every day. As we head into this fall season, these books are a great way to remind your child or student of how capable and amazing they are. Share your favorite reading finds with us by tagging our Facebook page and even sharing a photo of a book you haven't been able to put down lately!