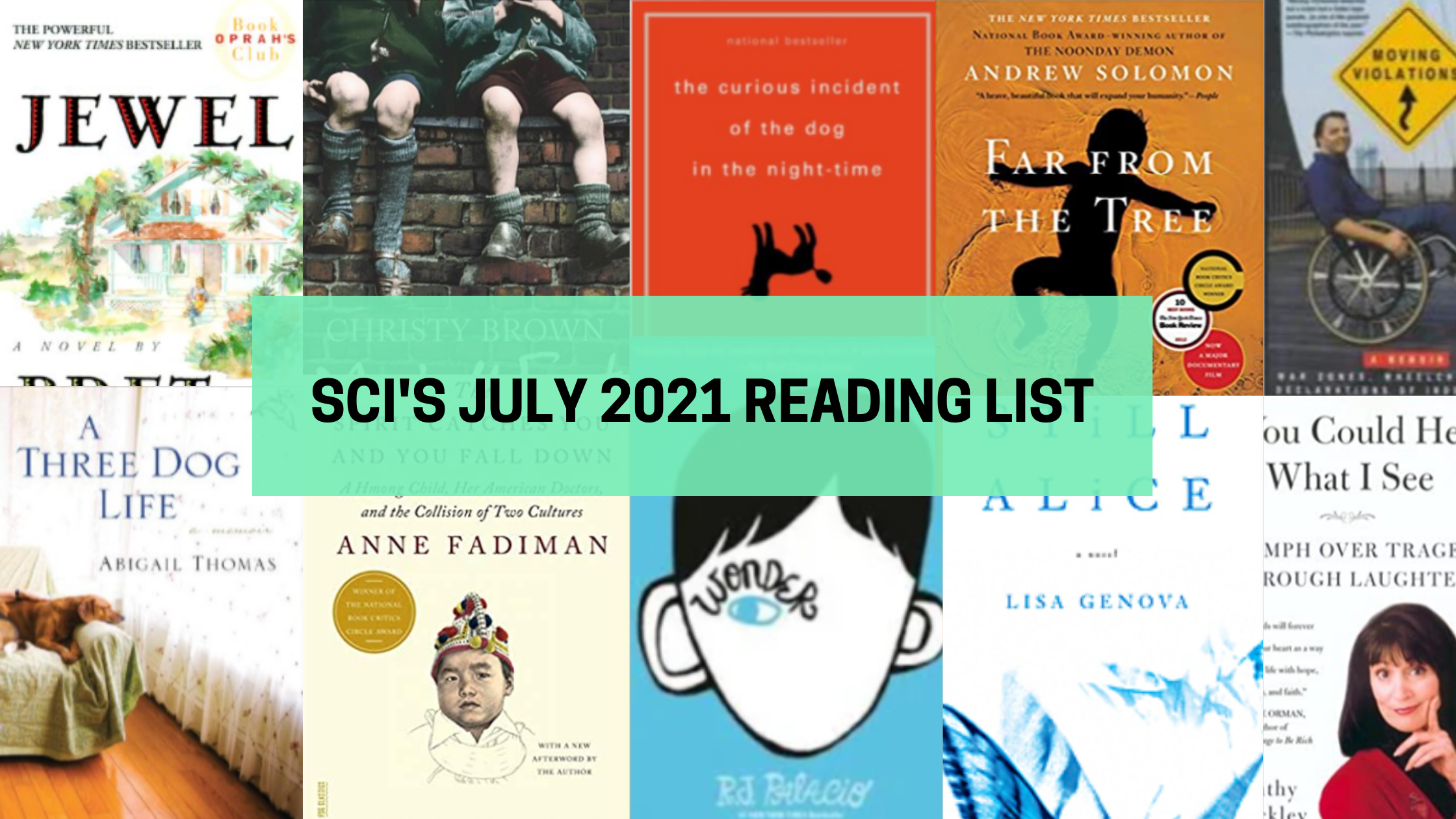 We're kicking off July with our second reading list of the summer! From teaching us about ourselves and others to opening us up to new adventures, there is nothing like a good book.
We have put together another summer reading list for this second month of summer to help you continue on your journey. If you missed our June Reading List, be sure to check it out here.
Below are some amazing reads from some of our favorite authors with disabilities.  Hopefully, you will find a new favorite to add to your list! 
My Left Foot by Christy Brown
"The warm, humorous and true story of Christy Brown's supreme courage and triumph over the severest of handicaps." SOURCE
The Curious Incident of the Dog in the Night-Time by Mark Haddon
"The Curious Incident of the Dog in the Night-Time is a murder mystery novel like no other. The detective, and narrator, is Christopher Boone. Christopher is fifteen and has Asperger's Syndrome. He knows a very great deal about maths and very little about human beings. He loves lists, patterns and the truth. He hates the colours yellow and brown and being touched. He has never gone further than the end of the road on his own, but when he finds a neighbour's dog murdered he sets out on a terrifying journey which will turn his whole world upside down." SOURCE
Wonder by R.J. Palacio
"August Pullman was born with a facial difference that, up until now, has prevented him from going to a mainstream school. Starting 5th grade at Beecher Prep, he wants nothing more than to be treated as an ordinary kid—but his new classmates can't get past Auggie's extraordinary face. WONDER, now a #1 New York Times bestseller and included on the Texas Bluebonnet Award master list, begins from Auggie's point of view, but soon switches to include his classmates, his sister, her boyfriend, and others. These perspectives converge in a portrait of one community's struggle with empathy, compassion, and acceptance." SOURCE
Jewel by Bret Lott
"With five healthy children, Jewel and Leston Hilburn were happy and believed life would continue in a slow-paced Mississippi way. But when Jewel and Leston's sixth is born a "Mongolian Idiot," as the New Orleans doctor declared, their life changes and Jewel leads her family on a journey to California that will bring all manner of hardship and joy. A client with a 38-year old brother with Down syndrome wrote "this novel was lovely. Jewel was real and brave. I hope my folks come to her final place of peace and acceptance that John will be ok."  SOURCE
A Three Dog Life by Abigail Thomas
"When Abigail Thomas's husband was hit by a car, it destroyed his short-term memory and consigned him to permanent brain trauma. Forced to adapt to a life alone, Abigail finds solace at home, discovering that friends, family and dogs can reshape a life of chaos into one that makes sense – a life full of its own richness and beauty." SOURCE  
The Spirit Catches You and You Fall Down by Anne Fadiman
"The Spirit Catches You and You Fall Down explores the clash between a small county hospital in California and a refugee family from Laos over the care of Lia Lee, a Hmong child diagnosed with severe epilepsy."  SOURCE
Still Alice by Lisa Genova
"Still Alice is a compelling debut novel about a 50-year-old woman's sudden descent into early onset Alzheimer's disease, written by first-time author Lisa Genova, who holds a Ph. D in neuroscience from Harvard University."  SOURCE
Far From The Tree: Parents, Children, and the Search for Identity by Andrew Solomon
"All parenting turns on a crucial question: to what extent should parents accept their children for who they are, and to what extent they should help them become their best selves. Drawing on ten years of research and interviews with more than three hundred families, Solomon mines the eloquence of ordinary people facing extreme challenges. Elegantly reported by a spectacularly original and compassionate thinker, Far from the Tree explores how people who love each other must struggle to accept each other—a theme in every family's life." SOURCE
Moving Violations: War Zones, Wheelchairs, and Declarations of Independence by John Hockenberry
John Hockenberry's Moving Violations is one of the most entertaining, provocative, unexpected, outspoken, and occasionally outrageous books in recent memory. It is a story of obstacles–physical, emotional, and psychic–overcome again, and again, and again. Whether riding a mule up a hillside in Iraq surrounded by mud-stained Kurdish refugees, navigating his wheelchair through intractable stretches of Middle Eastern sand, or auditioning to be the first journalist in space, John Hockenberry, ace reporter, is determined not only to bring back the story, but also to prove that nothing can hold him back from death-defying exploits." SOURCE
If You Could Hear What I See by Kathy Buckley
"The author shares her painful childhood of growing up hearing-impaired where she used humor to overcome many obstacles and traumatic events; details the people who profoundly impacted her life and urged her to follow her dreams; and reveals how she used laughter, courage, and pride to deal with life's many surprises." SOURCE
Summer is a great time to crack open a good book and peek inside someone else's world. Share your favorite summer reading finds with us by tagging our Facebook page and even sharing a photo of a book you can't seem to put down, all summer long!