Update: ePREP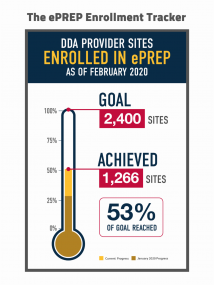 ePREP is Maryland Medicaid's new Electronic Provider Revalidation Enrollment Portal for provider enrollment, revalidation, information updates and demographic changes.
All DDA approved and licensed providers (except Coordination of Community Services agencies) must register in ePREP to receive DDA waiver payments when LTSSMaryland is implemented.
For step-by-step instructions on how to enroll: ePREP Application.
Contact your regional DDA Provider Relations representative for ePREP training and additional guidance:
CMRO – Provider Relations Department (410) 234-8200
SMRO – Teresa Nataline (301) 362-5123
ESRO – Andrea Jones  (410) 572-5945
WMRO – Timothy Jenkins (240) 313-3860
For ePREP system support (password reset or technical issues) call 1-844-463-7768 or email MDProviderRelations@automated-health.com.