My Home Needed Costly Repairs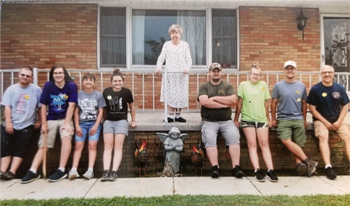 I have lived in my home for over 40 years. I have been unable, financially, to make any improvements to my home in the last 10 years. My home needed costly repairs. I had a hole in my garage ceiling, and a hole in my roof, which was allowing birds to get into my living space.
I would constantly chase birds out of my home. I had overgrown weeds surrounding my front porch, the railing to my front porch was broken and I was not able to use the front entrance of my home. There were bird's nests in my garage and in boxes in my living room. I had a broken stair railing in my garage too. The paint on my garage doors was peeling and the door was starting to rust. My back and front porch were full of green mold too.
My CCS discussed applying for Camp Hope and Catholic Heart Work Camp. I was approved for both camps. Catholic Heart cleaned my garage and removed eight bird's nest and trimmed all the weeds surrounding my front porch. Camp Hope came and painted all my doors in the garage, they fixed both railings to my porch an added a second railing to my garage. They weeded all my flowerbeds and power washed my front and back porch removing the mold. They were able to fix the hole in the roof, which had caused damage to the ceiling of the garage. The holes in my garage were patched and repaired. They placed my house number on my front door and built a display at the end of my driveway displaying my house number as well. This will help if I need to call 911.
I am currently waiting for weatherization to schedule more repairs to my home. I have been approved for a new fridge, a new window air conditioner, and new plumbing fixtures in my kitchen and bathroom. They will be installing insulation in my attic and basement and caulking my windows. They will be updating my light bulbs to save my money on my electric bill.
During this process it was determined that I had not paid my property taxes in over 3 years and my home could be placed up for sale due to back taxes. I owed over $2000. With the help of my CCS and Support Staff we were able to apply for tax credits and I am currently up to date on my property taxes!