Ifeoma Ezeofor's Story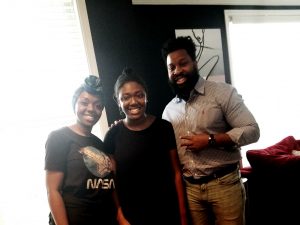 Ifeoma Ezeofor is a 19 year old young woman residing in Prince George's County, Maryland and was diagnosed with autism and intellectual disability disorder at the age of 5. Ifeoma was not meeting the necessary milestones as a child, and struggled to communicate her wants and needs effectively. By the age of 14, Ifeoma had grown frustrated with her inability to communicate her desires verbally and often times being misunderstood by others. As a result, Ifeoma became extremely violent. Prior to the assistance of the Community First Choice (CFC) program, she would break windows, break televisions, break mirrors, and once ripped the door off of her sister's car out of frustration. Ifeoma also had difficulties in school. Due to feeling misunderstood, she would become violent with students in the classroom, teachers, and even bus drivers. Ifeoma currently lives with her eldest sister, Chinenye Ezeofor, who is very supportive. Despite Ifeoma's behavioral challenges, she has a loving, kind, and sweet personality. She always has a smile on her face. She really loves to paint as a form of expression. Ifeoma loves animals and her favorite animal is a dog.
After being assisted by her Supports Planner, Caleb Jackson, to enroll in the CFC program in December of 2018, Ifeoma has made dramatic behavioral improvements. Caleb was able to assist Ifeoma to obtain 31.5 hours of personal care assistance per week being provided through Blessed Angels Home Healthcare. The personal assistant from this agency is able to help Ifeoma with her Activities of daily living (ADL)s by providing hands on or stand by assistance and reminders, as needed. The caregiver was able to understand Ifeoma's needs and worked with her family to develop a reward system that has contributed to positive changes in Ifeoma's behavior. The personal assistant has developed a chart that allows Ifeoma to track her behavior each calendar day. Every day that she behaves well, she will receive a smiley face sticker on the calendar for the day and at the end of that day, she will receive a reward in the form of candy. On the contrary, the days when she exhibits inappropriate behavior, she will receive a frowning face and she does not receive a reward at the end of the day. Additionally, Ifeoma has the opportunity to win an outing to one of her favorite restaurants if she goes two weeks without a frowning face. Chinenye Ezeofor stated "Ifeoma's behavior has improved and she has made a 180 degree change behaviorally since starting the program and working with the personal assistance agency." Because of Ifeoma's behavioral difficulties, she was not allowed to go to speech therapy. Prior to the CFC program, Ifeoma had not received speech therapy in over 5 years, but now she is attending speech therapy three times a week with no behavioral incidences. Chinenye expressed "If it was not for this program, I am not sure I would have been able to keep her with me because I was not able to handle it mentally." Ifeoma is doing well and no longer has behavioral outburst as a result of the implementation of the CFC program with the help of her Supports Planner.