Highlights – Employment First Summit: October 11

 Maryland 2019 Employment First Summit
Partners in TransformationThe DDA hosted its annual Maryland Employment First Summit. Partners convened to support the efforts of people with disabilities in obtaining and maintaining competitive and integrated employment.Opening remarks were provided by Maryland State agency partner leadership. Remarks discussed state and local level collaboration and shared vision related to competitive, integrated employment for people with disabilities in Maryland.

Pictured left to right: Assistant Superintendent Scott Dennis, Division of Rehabilitation Services (DORS), Assistant Superintendent Marcella Franczkowski, Maryland State Department of Education Division of Special Education/Early Intervention Services (MSDE), Deputy Secretary Bernard Simons, Developmental Disabilities Administration (DDA) and Secretary Carol Beatty, Maryland Department of Disabilities (MDOD)

Morning sessions included presentations by John Butterworth from the State Employment Leadership Network (SELN) about Organizational Transformation and Dale Verstegen of TransCen. Dale talked about the importance of Employer Engagement and understanding the economic impact of customized employment. The presentation was followed by a discussion highlighting the employer perspective with Eric Cole of the National Cancer Institute and Neill Christopher, previously with Acadia Windows.
Left to right: Eric Cole, Neill Christopher, Dale Verstegen
Afternoon breakout session presenters:
Jade Gingrich (DOD) and Dana Hackey (Way Station, Inc.), Managing Field Based Staff to Achieve Employment Results: Using Data as a Performance Management Tool and Other lessons learned from MD PROMISE
Dale Verstegen (TranScen), Approaching Employers and Developing Long Term Partnerships
Laurie Lyons (Service Coordination, Inc. (SCI)) The Role of Coordination of Community Services (CCS) in Supporting the Path to Employment
The day ended with a presentation from Kevin Walker and Gary Madigan (Penn Mar Community Services),  How Penn Mar Supports Self-Employment. The presentation highlighted how Penn Mar supported a person in service become an entrepreneur.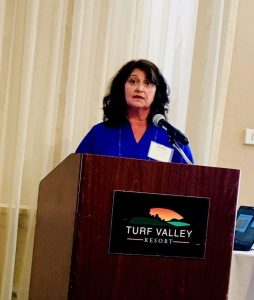 Laurie Lyons, SCI