Dorian's Story – Flourishing in Role Focused on Talents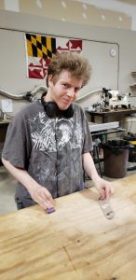 Knowing his fondness for the arts and creativity, Dorian's job developer helped make a job match at a small, woodworking company called Autumn Summer. They manufacture high end, handmade wooden gifts which they brand with a company's logo. Autumn Summer owner Ryan Herbstsomer, was very welcoming and accommodating to Dorian. As shop assistant, Dorian's duties are sanding, finishing and prepping wood. He has become a valued member of the Autumn Summer team. He is included on the company website, which was a very proud moment for Dorian, his family and The Arc Carroll County staff. He works independently with natural supports at the shop. The change in Dorian's attitude is palpable. He has flourished in the position which emphasizes the importance of being able to discover an individual's talents, skills, likes and dislikes. We are all very proud of him and what he has accomplished.
To read Dorian's full story, click here.

Visit the Autumn Summer website at www.autumnsummerco.com.