Advocacy 101 Workshop – RSVP BY 1/17/20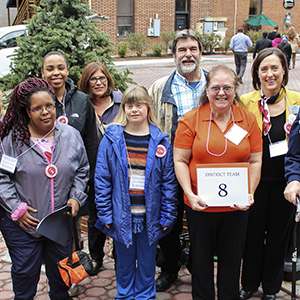 ADVOCACY 101 & MARYLAND'S GENERAL ASSEMBLY
WORKSHOP INFO
On Thursday, January 23rd, meet Maryland officials and experts on what to expect from developmental disability issues and funding in the upcoming General Assembly.
Participants will also learn:
Nuts and bolts for being an effective advocate and visit with other advocates
Priorities for the upcoming legislative session and details about the Developmental Disabilities Day in Annapolis on 2/12/2020.
Thursday, January 23, 2020
6:00 PM – Dinner & "meet the advocates"
6:30 PM – Program
The Arc Baltimore
7215 York Road, Baltimore, MD 21212
MEET THE ADVOCATES
The Arc Maryland Partners in Policy making, Little Lobbyists, New Hope for All, Maryland Developmental Disabilities Council, MACS, People of the Go of Maryland, and Maryland Center for Developmental Disabilities at Kennedy Krieger Institute.
MANDATORY RSVP BY JANUARY 17, 2020
Moneen Blake
mblake@thearcbaltimore.org
410-296-2272 x 5015
*Limited childcare will be provided, a childcare form must be completed for each child prior to event.
*Canceled if county or city schools close for inclement weather.