Jane's Story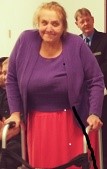 Jane is a 67-year-old woman who lives in Frederick, Maryland. Jane takes pride in living life on her own terms and does a great job advocating for herself in all aspects of life. Jane is living with an Intellectual Disability as well as Bipolar Disorder and mobility issues.
Jane is supported by the CFC program to help her maintain her home and to assist with personal care needs. She also receives Personal Support Services via The Arc of Frederick County, to assist with community access and other needs she may have, or interests she likes to pursue such as crafting, attending the senior center and connecting with family and friends.
Last year, Jane designed an Outcome to take a vacation. She wanted to go to Assateague Island in Maryland and Chincoteague in Virginia to see the wild horses. Jane has loved horses for all of her life and also enjoys the boardwalk..
Jane had almost enough money saved and was planning her trip for September. Due to no fault of her own, an error was made during the processing of her MA redetermination, and her application was denied. The result was that a new waiver packet and MA application needed to be submitted. Jane appealed and one day prior to the appeal meeting, it was determined that a mistake was made, and Jane's MA was to be reactivated. Unfortunately, the loss of MA for several months caused Jane to have to pay for her own Medicare premium, which was previously paid for by Medicaid. This caused Jane to have to use her vacation money so she could maintain her Medicare. She also lived on a very tight budget for that time period, doing without things she wanted and needed.
Her CCS, Wendy Mauro, began to look for resources for Jane, to help her with funding for vacation. She assisted her to apply for a grant via The Monocacy Foundation, which was subsequently approved this November. Jane and I attended the awards ceremony on 12/4/19, and her hotel will be paid for by this grant. Jane is now planning a trip for the Spring! She will be supported by her PSS Staff and is looking forward to seeing the horses!