Celebrating the 10th Anniversary of the closure of the Rosewood Center
On Friday, May 22, 2009, the last resident of Rosewood left the institution for the very last time. Today, former residents and others with developmental disabilities are our neighbors, our colleagues, and our friends. They are leading meaningful lives in the community. https://www.youtube.com/watchv=hy8_BfvgGNU&feature=youtu.be
Roslyn Johnson's Own Home: Submitted by Muna Elia-Abass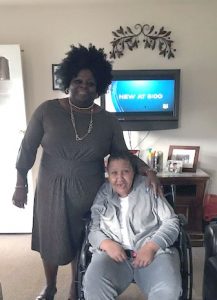 Roslyn's family was filled with trepidation when they learned that Rosewood was closing and attended many meetings to plan, share their fears and wonder what the future would hold. Rosewood was all Roslyn had known since she was 8 years old, having lived there for 44 years beginning in 1964 and was known by all and loved by many and the people who supported her and lived with her had become a part of her family.
On 10/29/2008, Roslyn moved into her new home and started day services with a Baltimore County provider. Ten years later, every year the fear has been replaced with joy. Moving changed Roslyn's quality of life and given her choices she had never known. She loves her home, has the most amazing staff and has conquered many hurdles.
She lives a life with joy and happiness and enjoys the freedom of planning the grocery list, assisting with the laundry and, listening to her choice of music uninterrupted on her stereo, IPad, and CD player. Because she was not allowed to carry her stereo around at Rosewood, this is very important to her.
One thing that Roslyn enjoys is that food is much better at her house; some favorites are salad and fried chicken. Because celebrating her birthday is important to Roslyn, she and her sister go out to have fun and then Roslyn has a party at heroften.
Roslyn loves going out and can often be found shopping at her favorite dollar store and at Rite Aid. She clips coupons as she plans her shopping list and enjoys going to favorite restaurants including Hibachi Grill, San Antonio's and Golden Coral. It is easy to see that relationships are a significant part of Roslyn's life. One of the most important is with Linda, her DSP since she moved out of Rosewood who "takes good care of and loves" her. Roslyn knows she would not want to go back to Rosewood, adding "I like that I have my own things". At her request, we helped Roslyn reconnect with her boyfriend from Rosewood; the two later lost contact when he moved away. Since Roslyn continues to ask for him, her CCS is trying to help her find him again. Roslyn would not care for any other man except this particular man and so the story continues…
Life and Times of Richard Breitenbach written by his brother/Guardian, Glenn Breitenbach, and submitted by Desiree Pennington.
It's 2019 and Richard has had a long journey to finally living in peace. I am Glenn Breitenbach and I am writing about my brother's life. Richard is a 65-year-old man, with an Intellectual Disability. He is fully dependent on support to aid in his daily activities due to hearing and speech loss. We were both raised in the 1950's, in a Blue-Collar world in which my Father worked full time, and Mom was a homemaker. Richard stayed home until he was a grown man in his 20's and Mom could no longer take care of all his needs.
Around 1977, our family visited Rosewood to see if it would work for Richard. When Richard first moved into Rosewood, it was in full operation and staffed correctly for the number of people. I remember because my parents were 100% engaged in all activities and we went twice a week and every Sunday to visit. Rosewood was managed by Directors, Managers, and there was supervision at each facility with the correct amount of staff. Those were great days because he was around people like himself and the residents of Rosewood took care of each other. There were events, parades, games, movies and proper medical care. I remember my Mom saying Richard seemed happier because he was with people more like him and could act accordingly in his own environment.
That changed as funding from the State decreased. In the 1990's, staffing was cut in half and new ideas took place to move the Rosewood residents into the community. People who could communicate verbally and/or work were lucky enough to go to group homes, while people like Richard who needed more support remained at Rosewood. Again, I remember my parents still supported Rosewood. They were always on the Board and registered for some role to keep things from a complete breakdown. Now on Sunday visits Richard came from a locked down room that they kept everyone in during the day. Yes, one large room and everyone sitting around with nothing to do, one TV mounted from a cage hung up on the wall. Soon after, announcements were made that Rosewood was closing and everyone would be relocated. Now the fear set in for my parents, would Richard adjust? Where would he go?
My Mom and Dad had some interviews with Gallagher Services, and I remember us all praying that they would consider Richard, Thank God they did, and he was accepted. Gallagher Services knew he would be a challenge because of the many years of being institutionalized. Yes, sad but to survive he learned to steal food, drinks, fight and do whatever it took to get by. But remember he was raised in a normal house with rules and his foundation was good, it just got lost along the way.
Once in the Gallagher program, he started to change, adjust and go back to living a normal life in his element. Now this was only accomplished because of the wonderful staff, supervision and programs in place. My family and I are so happy with Richard now, in fact he has even been on a plane to Florida for vacation, yes, a vacation. With the aid of his case workers, State requirements and the new programs in place like O.B.I., he has a great life now. In closing I would like to outline what I see now: Great medical records on Richard, one on one support when needed. Scheduled events, vacations, trips and a staff within Gallagher Services that run a fully proficient operation daily. Also, the MD State support needed with meetings twice per year, review of his needs, forms and check off sheets on yearly progress. Excellent support from everyone!! Our family is blessed, Thank God for progress down the long road of learning.
Wilbur Smith: Submitted by Alecia Fields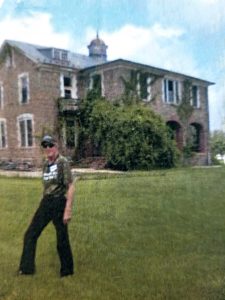 Wilbur was born in 1950. In 1957, at the age of 7, Wilbur's parents dropped him off at Rosewood. His parents stated that they were leaving him at the center because he had red bumps all over his head. His parents and other family never came to visit him while he was at Rosewood. In 1976, at the age of 21, Wilbur exited the Rosewood Center and entered the outside world. As Wilbur told his story, he shared how he faced harsh disciplinary actions often during his 14-year stay at Rosewood. As Wilbur's eyes began to tear, he stated that he wished not to elaborate on all of the actions as this makes him sad and uncomfortable. Wilbur did share that he had his arm broke and has many scars on his back due to the physical abuse that he endured. Wilbur explained the environmental conditions as well. He stated they were not allowed to have personal belongings. He shared that when they were able to get a shower, they were made to do so with many of the other individuals that resided at Rosewood. The dorms consisted of hard steel beds with nothing on the walls. He explained that the residents were not allowed to go outside. He went on to say that when he tried to look outside the windows, he only saw the steel bars and was reminded how awful and stuck he felt.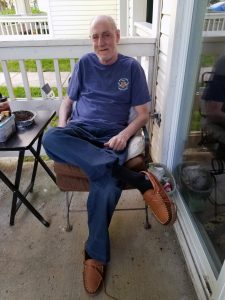 After Wilbur exited Rosewood, at the of 21, he was asked to speak regarding his experience at the facility and to talk about what went on behind the closed doors at Rosewood. He was instrumental in helping to close Rosewood. Wilbur and two others testified in Annapolis regarding the horrible conditions and inhumane treatment they had gone through. During the press conference and testimonial in Annapolis, Wilbur shared the moment when a man told him he had a handicap that was the reason for him being
admitted into Rosewood. Wilbur proudly continues to say that his response was "I'm not handicap or have a handicap.  I'm like everyone else here."
After Wilbur left Rosewood, he quickly began receiving residential services in Baltimore, Maryland. He also accesses meaningful day services from the Arc of Baltimore County. Wilbur eventually moved back to Frederick where he was born and raised as a young boy. He began to utilize services and supports from the Arc of Frederick Count and lives in his own apartment with supports. Wilbur shares that he has many reasons to be happy that he was able to leave Rosewood, however the biggest reason is that he no longer must be pushed around and treated differently because of his disability. Wilbur stated that when he first was released from Rosewood he felt "free as a bird."
Michael's Story: Submitted by Adam Cunningham
I was assigned to work with Michael when Rosewood was closing. During his PCP Meeting at Rosewood, the Social Worker said he believed that Michael had a brother named John who had also lived at Rosewood, but he had moved out several years ago. I went to work trying to track down this brother because I thought it would be great if I could help to reunite them. The institutional files mentioned a brother with a different name but did not include information about John. I kept looking and eventually was able to find a man named John who had the same last name who was now receiving DDA services and was able to identify him as the correct person by matching the "common brother" listed in both of their files. Working with Michael's residential provider, we arranged for John to come to Rosewood to meet with Michael. This is when one of the coolest things I have ever seen in my 11+ years of being an SC happened. Mike, who paced the perimeter of the cottage that he lived in non-stop, came to an abrupt stop in front of his brother when one of his revolutions of the cottage brought them face to face. They made immediate eye contact and John reached out and held out his hand and Mike, who did not like physical contact, reached out to him and they touched hands and held it for a few moments before Mike continued on. But on each revolution of the cottage Mike would stop in front of his brother and sometimes they would touch (not always) but they would make eye contact confirming they recognized each other! With the help of the provider Mike was able to leave Rosewood and move in with his brother where they spent as much time together as possible until sadly John passed away. Mike passed away a few years later but it is still one of my proudest moments as an SC by helping these two long lost brothers reconnect and spend their twilight years together in a happier setting in a home in the community!