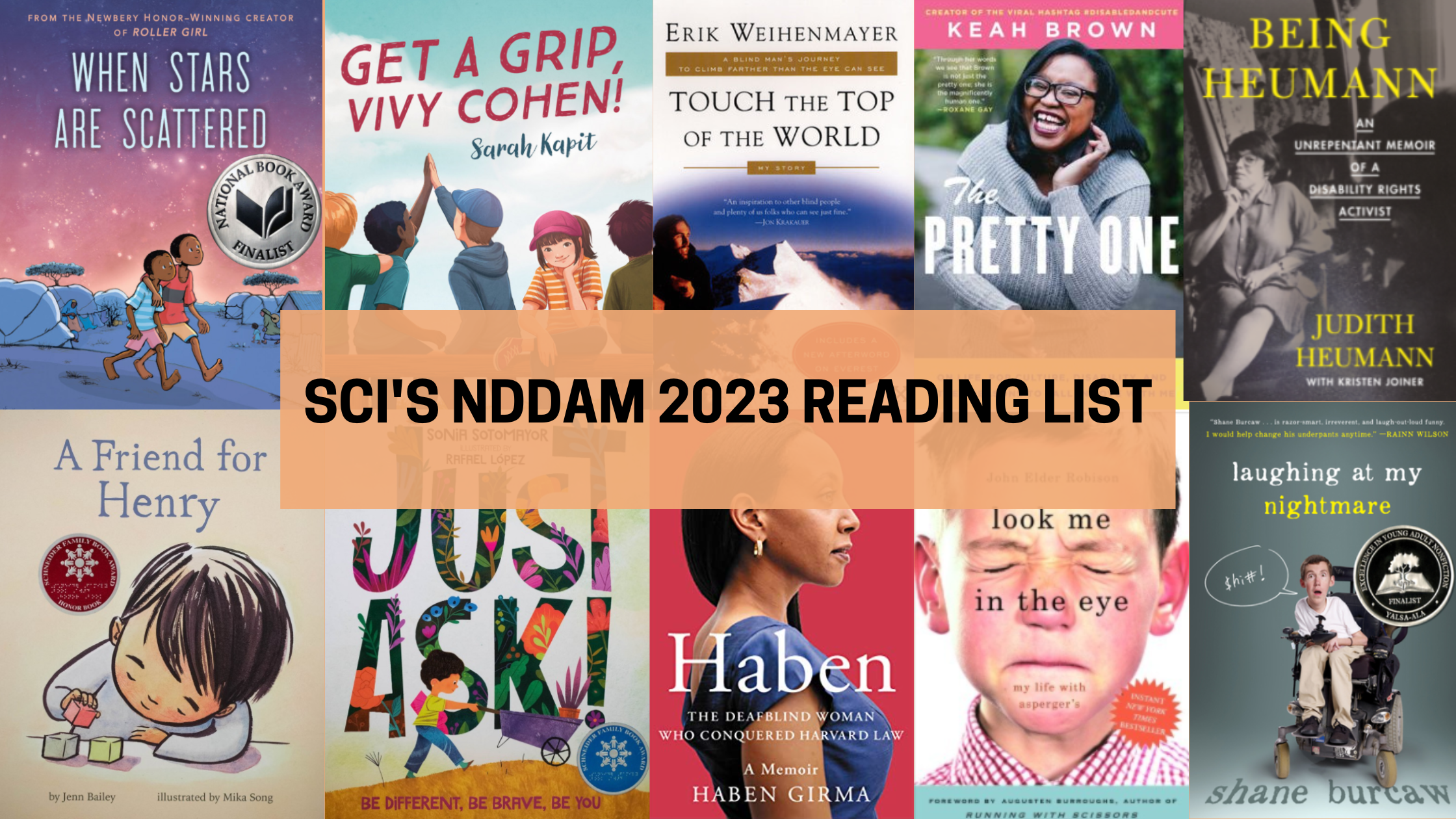 Celebrate National Developmental Disabilities Awareness Month by discovering some incredible authors! This reading list we have put together features books with something special in common; they are all written by authors with disabilities. From light-hearted stories to accounts of challenges and triumphs, this impressive list of titles illustrates the importance of representation. Books can spark conversations and increase visibility and awareness in some of the most unlikely ways. Our love for reading grows every time we create a reading list for you, and we hope you feel the same!
The publisher's description follows each book title.  
If you missed our last Reading List,
check it out here
.
Sitting Pretty: The View from My Ordinary Resilient Disabled by Rebekah Taussig 
"A memoir-in-essays from disability advocate and creator of the Instagram account @sitting_pretty Rebekah Taussig, processing a lifetime of memories to paint a beautiful, nuanced portrait of a body that looks and moves differently than most." SOURCE 
The Pretty One: On Life, Pop Culture, Disability, and Other Reasons to Fall in Love with Me by Keah Brown 
"From the disability rights advocate and creator of the #DisabledAndCute viral campaign, a thoughtful, inspiring, and charming collection of essays exploring what it means to be black and disabled in a mostly able-bodied white America." SOURCE 
Being Heumann: An Unrepentant Memoir of a Disability Rights by Judith Heumann 
"One of the most influential disability rights activists in US history tells her personal story of fighting for the right to receive an education, have a job, and just be human." SOURCE 
Haben: The Deafblind Woman Who Conquered Harvard Law by Haben Girma 
"The incredible life story of Haben Girma, the first Deafblind graduate of Harvard Law School, and her amazing journey from isolation to the world stage." SOURCE 
Girl at War by Sara Nović 
"For readers of The Tiger's Wife and All the Light We Cannot See comes a powerful debut novel about a girl's coming of age—and how her sense of family, friendship, love, and belonging is profoundly shaped by war." SOURCE  
If at Birth You Don't Succeed by Zach Anner 
"Comedian Zach Anner opens his frank and devilishly funny book, If at Birth You Don't Succeed, with an admission: he botched his own birth. Two months early, underweight and under-prepared for life, he entered the world with cerebral palsy and an uncertain future. So how did this hairless mole-rat of a boy blossom into a viral internet sensation who's hosted two travel shows, impressed Oprah, driven the Mars Rover, and inspired a John Mayer song? (It wasn't "Your Body is a Wonderland.") 
Zach lives by the mantra: when life gives you wheelchair, make lemonade. Whether recounting a valiant childhood attempt to woo Cindy Crawford, encounters with zealous faith healers, or the time he crapped his pants mere feet from Dr. Phil, Zach shares his fumbles with unflinching honesty and characteristic charm. By his thirtieth birthday, Zach had grown into an adult with a career in entertainment, millions of fans, a loving family, and friends who would literally carry him up mountains. 
If at Birth You Don't Succeed is a hilariously irreverent and heartfelt memoir about finding your passion and your path even when it's paved with epic misadventure. This is the unlikely but not unlucky story of a man who couldn't safely open a bag of Skittles, but still became a fitness guru with fans around the world. You'll laugh, you'll cry, you'll fall in love with the Olive Garden all over again, and learn why cerebral palsy is, definitively, 'the sexiest of the palsies.'" SOURCE 
Beauty is a Verb: The New Poetry of Disability by Sheila Black, Jennifer Bartlett, and Michael Northen 
"Chosen by the American Library Association as a 2012 Notable Book in Poetry. 'Beauty is a Verb' is a ground-breaking anthology of disability poetry, essays on disability, and writings on the poetics of both. Crip Poetry. Disability Poetry. Poems with Disabilities. This is where poetry and disability intersect, overlap, collide and make peace." SOURCE 
A Face for Picasso by Ariel Henley 
"I am ugly. There's a mathematical equation to prove it. 
At only eight months old, identical twin sisters Ariel and Zan were diagnosed with Crouzon syndrome — a rare condition where the bones in the head fuse prematurely. They were the first twins known to survive it. 
Growing up, Ariel and her sister endured numerous appearance-altering procedures. Surgeons would break the bones in their heads and faces to make room for their growing organs. While the physical aspect of their condition was painful, it was nothing compared to the emotional toll of navigating life with a facial disfigurement. 
Ariel explores beauty and identity in her young-adult memoir about resilience, sisterhood, and the strength it takes to put your life, and yourself, back together time and time again." SOURCE 
*For the Reader: Graphic descriptions of surgery. Distressing bullying from adults and children.* 
As always, we want to hear from you on what you're reading. Please tell us about your favorite book by tagging our Facebook page and include a photo of the book!