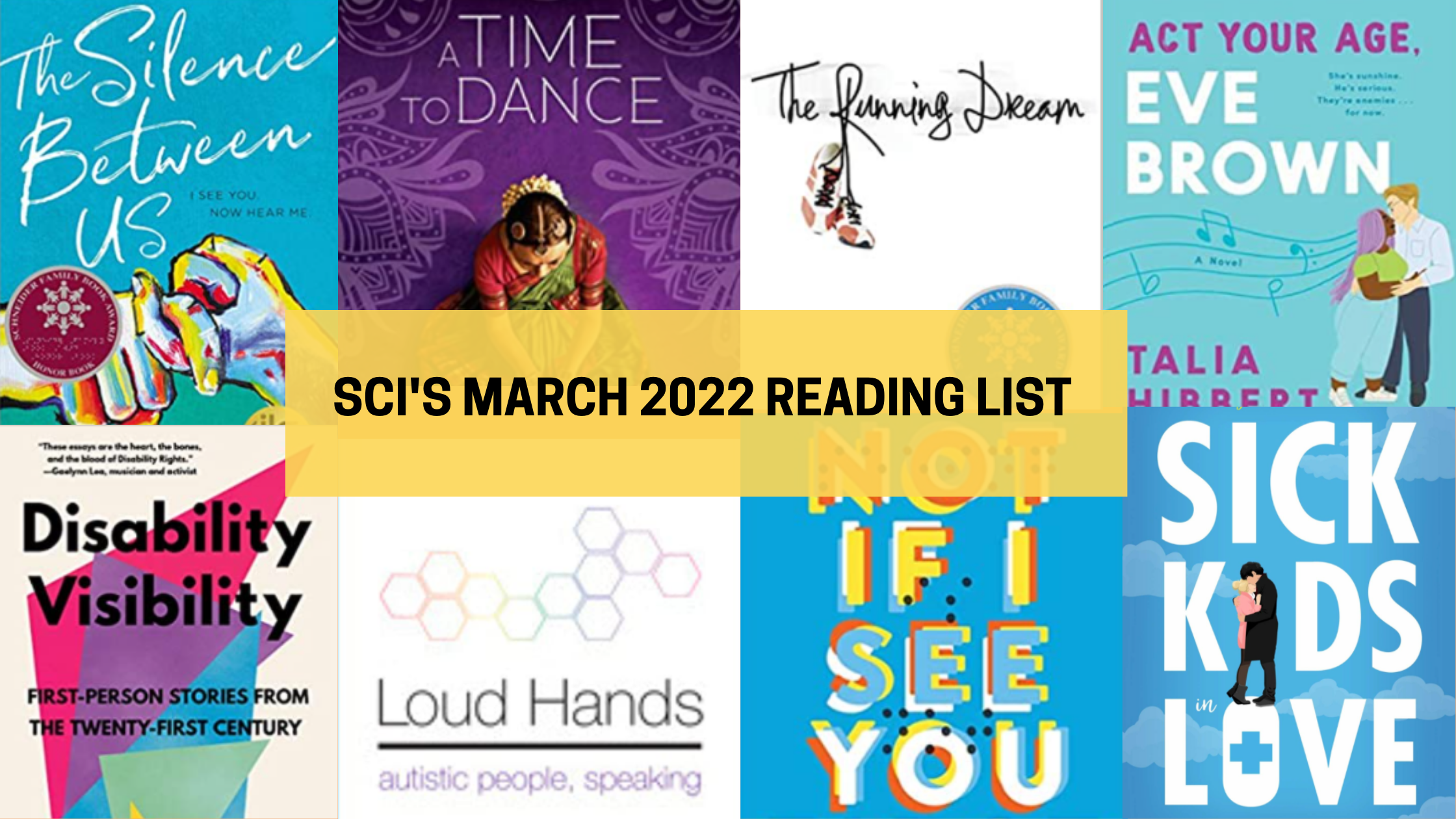 Reading for 2022!
Celebrate International Book Day by finding a new book to read! We put together a great list of titles that explore the challenges and triumphs of living with a disability. We hope this list ignites your continued joy of reading for 2022. Use our entire list or add a few titles to your list! Happy reading!
The publisher's description follows each book title. 
If you missed our Fall Reading List, check it out here.
Loud Hands: Autistic People, Speaking by several individuals
"Loud Hands: Autistic People, Speaking is a collection of essays written by and for Autistic people. Spanning from the dawn of the Neurodiversity movement to the blog posts of today, Loud Hands: Autistic People, Speaking catalogues the experiences and ethos of the Autistic community and preserves both diverse personal experiences and the community's foundational documents together side by side." SOURCE
Sick Kids Love by Hannah Moskowitz
"Isabel has one rule: no dating.
It's easier―
It's safer―
It's better―
―for the other person.
She's got issues. She's got secrets. She's got rheumatoid arthritis.
But then she meets another sick kid.
He's got a chronic illness Isabel's never heard of, something she can't even pronounce. He understands what it means to be sick. He understands her more than her healthy friends. He understands her more than her own father who's a doctor.
He's gorgeous, fun, and foul-mouthed. And totally into her.
Isabel has one rule: no dating.
It's complicated―
It's dangerous―
It's never felt better―
―to consider breaking that rule for him." SOURCE
Disability Visability: First-Person Stories from the Twenty-First Century edited by Alice Wong
"One in five people in the United States lives with a disability. Some disabilities are visible, others less apparent—but all are underrepresented in media and popular culture. Now, just in time for the thirtieth anniversary of the Americans with Disabilities Act, activist Alice Wong brings together this urgent, galvanizing collection of contemporary essays by disabled people.
From Harriet McBryde Johnson's account of her debate with Peter Singer over her own personhood to original pieces by authors like Keah Brown and Haben Girma; from blog posts, manifestos, and eulogies to Congressional testimonies, and beyond: this anthology gives a glimpse into the rich complexity of the disabled experience, highlighting the passions, talents, and everyday lives of this community. It invites readers to question their own understandings. It celebrates and documents disability culture in the now. It looks to the future and the past with hope and love." SOURCE
Act Your Age, Eve Brown by Talia Hibbert
"Talia Hibbert is a New York Times, USA Today, and Wall Street Journal bestselling Black British author who lives in a bedroom full of books. Supposedly, there is a world beyond that room, but she has yet to drum up enough interest to investigate. She writes sexy, diverse romance because she believes that people of marginalized identities need honest and positive representation. Her interests include beauty, junk food, and unnecessary sarcasm."  SOURCE
A Time to Dance by Padma Venkatraman
"Padma Venkatraman's inspiring story of a young girl's struggle to regain her passion and find a new peace is told lyrically through verse that captures the beauty and mystery of India and the ancient bharatanatyam dance form. This is a stunning novel about spiritual awakening, the power of art, and above all, the courage and resilience of the human spirit.
Veda, a classical dance prodigy in India, lives and breathes dance—so when an accident leaves her a below-knee amputee, her dreams are shattered. For a girl who's grown used to receiving applause for her dance prowess and flexibility, adjusting to a prosthetic leg is painful and humbling. But Veda refuses to let her disability rob her of her dreams, and she starts all over again, taking beginner classes with the youngest dancers. Then Veda meets Govinda, a young man who approaches dance as a spiritual pursuit. As their relationship deepens, Veda reconnects with the world around her, and begins to discover who she is and what dance truly means to her." SOURCE  
Not If I See You First by Eric Lindstrom
"Parker Grant doesn't need 20/20 vision to see right through you. That's why she created the Rules: Don't treat her any differently just because she's blind, and never take advantage. There will be no second chances. Just ask Scott Kilpatrick, the boy who broke her heart.
When Scott suddenly reappears in her life after being gone for years, Parker knows there's only one way to react–shun him so hard it hurts. She has enough on her mind already, like trying out for the track team (that's right, her eyes don't work but her legs still do), doling out tough-love advice to her painfully naive classmates, and giving herself gold stars for every day she hasn't cried since her dad's death three months ago. But avoiding her past quickly proves impossible, and the more Parker learns about what really happened–both with Scott, and her dad–the more she starts to question if things are always as they seem. Maybe, just maybe, some Rules are meant to be broken.
Combining a fiercely engaging voice with true heart, debut author Eric Lindstrom's Not If I See You First illuminates those blind spots that we all have in life, whether visually impaired or not."  SOURCE
The Silence Between Us by Alison Gervais
"Deaf teen Maya moves across the country and must attend a hearing school for the first time. As if that wasn't hard enough, she also has to adjust to the hearing culture, which she finds frustrating—and also surprising when some classmates, including Beau Watson, take time to learn ASL. As Maya looks past graduation and focuses on her future dreams, nothing, not even an unexpected romance, will not derail her pursuits. But when people in her life—Deaf and hearing alike—ask her to question parts of her Deaf identity, Maya stands proudly, never giving in to the idea that her Deafness is a disadvantage."  SOURCE
The Running Dream by Wendelin Van Draanen
"Jessica thinks her life is over when she loses a leg in a car accident. She's not comforted by the news that she'll be able to walk with the help of a prosthetic leg. Who cares about walking when you live to run?
As she struggles to cope with crutches and a first cyborg-like prosthetic, Jessica feels oddly both in the spotlight and invisible. People who don't know what to say, act like she's not there. Which she could handle better if she weren't now keenly aware that she'd done the same thing herself to a girl with CP named Rosa. A girl who is going to tutor her through all the math she's missed. A girl who sees right into the heart of her.
With the support of family, friends, a coach, and her track teammates, Jessica may actually be able to run again. But that's not enough for her now. She doesn't just want to cross finish lines herself—she wants to take Rosa with her." SOURCE
As always, we want to hear from you on what you're reading.

Please tell us about

your favorite

book

by tagging our

Facebook page

and

include

a photo of

the

book

!