The DDA Wants Your Input!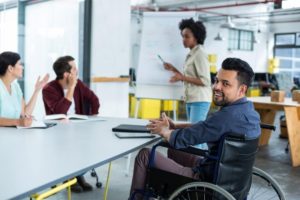 The Developmental Disabilities Administration (DDA) routinely partners with stakeholders for a variety of standing committees. Currently, the DDA is seeking volunteers for three committees, the Transition Advisory Team, Mortality Quality and Review Committee and the Quality Advisory Council.
Transition Advisory Team (TAT)
The Transition Advisory Team provides information and guidance to the Maryland Department of Health related to the State Transition Plan to comply with the federal Community Settings Regulations. The group includes program participants, family members, self-advocates, and various stakeholder organizations such as People on the Go, the Maryland Developmental Disabilities Council, the Maryland Center for Developmental Disabilities, Disability Rights Maryland, The Arc of Maryland, the Coordination of Community Services Coalition, and the Maryland Association of Community Services (MACS).
The Community Settings regulations address several sections of Medicaid law under which states may use federal Medicaid funds to pay for home and community-based services (HCBS) including the DDA waiver programs.
If you are interested in participating and making a difference in the lives of people with developmental disabilities in Maryland, visit their website for more information on applying.
---
Mortality Quality and Review Committee
The Mortality Quality and Review Committee was established thru legislation to review deaths of the developmentally or intellectually disabled in Maryland. Members ensure that DDA-funded agencies and facilities are following COMAR regulations, guidelines, policies and procedures regarding these deaths. The committee also reviews death cases from the Behavioral Health Administration.
Committee members are nominated by the DDA Deputy Secretary and appointed by the Secretary of the Department of Health. Applicants must be passionate in advocating for better care and better services for those who are living and for those who are transitioning from living to death.
For applicant requirements and more information on applying, visit their website.
---
Quality Advisory Council
Quality Advisory Council was established to assist in the review of DDA-related materials, to provide guidance on the validity of information, best practices, feedback on hot topic issues, and to find resolutions.
If you are interested in working with the DDA in creating, developing and implementing policies, procedures and legislation, visit our website for more information on applying.
For more information on volunteering, visit the DDA website.