A Success Story – Jose Rodriguez Diaz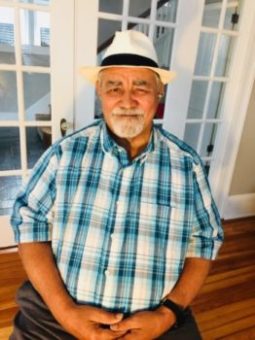 Jose is a 61 year old father and grandfather who currently resides in Harford County with his daughter Maria (Cary), son in law Luis, and their two daughters. Jose and his story is pretty remarkable. Up until October 2017, Jose was residing in his home country of Puerto Rico.
He has an extensive medical history which includes end stage renal disease, bilateral below the knee amputee, and diabetes. Due to his end stage renal disease, he needs dialysis 3 times a week for 4-6 hours. When Hurricane Maria hit Puerto Rico, many individuals seeking medical attention could not receive the attention they needed and Jose was one of them. He went from receiving full dialysis treatments to getting the treatments cut to 2 hours a day and having very low oxygen supply.
Jose is a bilateral knee amputee who used the resources he had to make two homemade prosthetics.  That is when Cary and her husband Luis took action and brought him to live with them in Maryland. As soon as he arrived, Jose ended up in the hospital where he needed emergency dialysis due to not receiving adequate medical attention in Puerto Rico. This was an overwhelming and stressful time for Cary as she was trying move her family into a home that could accommodate her father. In the midst of trying to find the right home, Cary had to also locate resources to help her father live autonomously in the community. During this time, Cary received word from Harford County Local Health Department regarding Community First Choice (CFC) services.
This is when Supports Planner Alysia Amoriello came into the Rodriguez Diaz family's lives. Not only has Alysia assisted in helping Jose get CFC services in place in a short amount of time, she has been there to support the family in this transitional period. One thing that was a challenge with the new home was that there are a couple of steps that lead up to the front door and Jose's wheelchair would not be able to make it in and out safely.
Since Jose lives with Cary, Luis, and their daughters, he could never go out to watch them play. To assist, Alysia connected with the Office on Aging to inquire about a ramp that the family could utilize temporarily until they could get a more permanent adaptation. Following the inquiry with the Office on Aging, Alysia secured a temporary ramp which will not only allow Jose to enter and leave the house safely but will also help him to spend time outside with his granddaughters. After getting the great news of the temporary ramp, Jose then received the even greater news of his very own professionally made prosthetics. During the past 4 months Jose's life has changed drastically. He has come very far since the devastating hurricane in Puerto Rico. Jose, with the help of his family and Alysia, has been able to find the services needed to help him life autonomously in the community.