Policy Review Team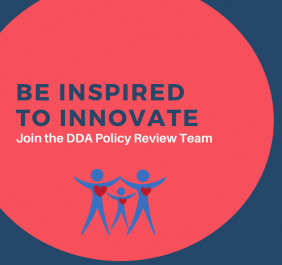 What's happening with Policy? The Developmental Disabilities Administration (DDA) recently created a Policy Review Team. The team assists and advises the DDA on developing person and family-centered systems of support policies for people with intellectual and developmental disabilities throughout the lifespan.
Who can participate? People receiving DDA services, Self-Advocates and Family members. Everyone that participates are treated with respect as a full member of the Policy Review Team. Members are being recruited from the Maryland Supporting Families Community of Practice, the Developmental Disabilities Council, People on the Go of Maryland, and other family self-advocacy groups.
When do we meet? The Policy Review Team will meet at least ten times per year, and more frequently, as needed. There are no minimum meeting requirements for individual members. While the Policy Review Team members are welcome to participate in all meetings, DDA recognizes that they may not always be able to do so. Additionally, some members may prefer to participate in Policy Team meetings about the topics that are most relevant to them and their families.
Where do we meet? There are a variety of ways people can participate in the Policy Review Team. Members can share their feedback with DDA and others through in person meetings, remote participation, or through submitting written feedback. DDA will support self-advocates who are not able to attend and but would like to submit feedback in advance. For Policy Review Team members with computer access, the DDA recommends using the Policy Review Team Google Drive for comments and feedback.
How can I get involved? For more information or to join the Policy Review Team, please contact Dr. Terah Tessier, DDA Director of Policy and Special Programs at terah.tessier@maryland.gov.