Mr. Devon Edwards Story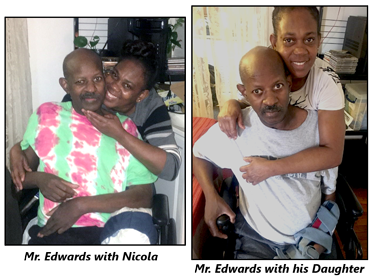 Written by Nicola Rankin-Ortiz, SCI Supports Planner
Mr. Edwards resides in Prince George's County, Maryland. Mr. Edwards was assigned to SCI in December 2019. I first met with him at Larkin Chase Nursing & Restorative Care Center where he was admitted following a stroke. Mr. Edwards' daughter was also present at our first meeting and I quickly learned that he has a strong, supportive family. I let the family know that my role as the Supports Planner would be to assist Mr. Edwards' with his transition into the community with the Community Options (CO) Waiver. In the beginning, his daughter and wife expressed the desire that the CO waiver enrollment process be expedited because they felt his needs could be better met by his family members upon leaving the facility.
I learned that Mr. Edwards is described by those who know him as a devoted family man. He is kindhearted, hardworking, and outgoing. After the stroke, his normally positive demeanor changed, and he became depressed. He believes his depression was exacerbated by the fact that he was residing in a nursing home. He was concerned about his separation from his loved ones and upset by the amount of time he had to spend away from them. He let me know right away that his ultimate goal was to move back home as soon as possible.
During the enrollment period into the waiver, safety precautions related to COVID-19 were implemented and access to the nursing facility was denied to visitors. This new precaution caused some challenges initially, but I was able to keep the process moving forward by remaining diligent and organized. In order to coordinate his transition successfully, I utilized the phone and other methods of technology to ensure that all documentation was completed and submitted in a timely manner. I was also able to collaborate with Mr. Edwards's family and the nursing home social worker. As a team, we ensured that his transition into the community would not be postponed due to the COVID-19 pandemic. In March of 2020, Mr. Edwards' goal became a reality and he discharged from Larkin Chase Nursing & Restorative Care Center. He moved back into his family home with his wife. Mr. Edwards is currently a happily enrolled participant in the CO Waiver and is receiving 40 hours of personal assistance per week, as well as continued support through Nurse Monitoring by the Local Health Department and Supports Planning Services from SCI. His wife is serving as his caregiver and the couple is glad to be reunited.
Mr. Edwards' daughter is very happy to report that her dad is "back to himself." Mr. Edwards' health is improving, and he feels some relief from the depression he was experiencing while in the nursing home. He knows that he still has a long way to go due to his stroke, but he feels that moving back home was the positive first step on his journey towards better health. His family is optimistic about his recovery and wellbeing. His daughter expressed her gratitude to Service Coordination for the support provided to her father throughout the entire process and she feels it is a blessing for her parents to be back together in their own home at this time.