Frederick County's Top CEOs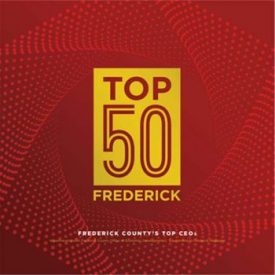 Service Coordination, Inc.'s (SCI's) CEO, JOHN DUMAS, named one of Frederick County's Top CEOs in January's Top 50 Supplement to Frederick Magazine.

John was recognized among the Top 50 CEOs in Frederick, MD for his innovative approach to creating a collaborative culture through shared leadership. He is a firm believer that you get a lot more done when you include the right people at the table than by being directive or authoritative in nature. Teresa Berman, President of SCI's Board of Directors, notes: "John's management style has been a tremendous asset to Service Coordination. He has surrounded himself with a strong management team that is encouraged to present new ideas and to work collaboratively for the good of the organization. This has enabled Service Coordination to overcome significant barriers and to generate ideas for new programs, which has allowed the organization to grow significantly while providing high quality services to the individuals that we serve."
With current expansion into seniors and veterans programs and a retention rate of 95% it is clear to see how John's forward thinking has benefited SCI, an organization already committed to providing the highest quality case management services to people with disabilities, serious medical conditions, autism, mental health challenges and at-risk youth in Maryland. Congratulations, John!
Business Turnarounds
Service Coordination CEO John Dumas credits his background in the U.S. Marine Corps and his education with creating a positive corporate culture at the nonprofit dedicated to helping those in need including individuals with developmental and intellectual disabilities, mental health challenges and the elderly. "I think you can get a lot more done when you include people at the table and solve problems than you do being directive or authoritative in nature," he says.
Creating a collaborative culture is one of the hardest things Dumas says he has ever done. The concept of getting experts in different areas to sit around a table, outline and discuss an issue and develop a collective solution sounds simple. Yet, Dumas notes people are taught early to have someone tell them what to do. The notion of offering up ideas and thoughts and discovering that staff value them may be a different experience for them.
Dumas makes it a priority to meet with all new team members the first day they start and when staff are promoted from within as well. "It's important to hear the good things that you are doing, and it makes you feel really good," he says.
"Although I want to hear the things we need to do, that we need to improve. What are areas we need to pay attention to and work on?" He likes to walk around, get out there and visit with everyone in the office. "Leadership can tell you what is going on and you can be sitting back listening to people and it's probably going to be fairly accurate," he says. "Although if you really want to know what is going on, ask people. Create the environment where they can be very honest with you even if it hurts your feelings. … If that is your perspective I have to respect that."
In 2013, the state changed its case management model impacting the nonprofit financially. They expected to be in a $8 million deficit but ran a $4 million deficit. Within three years, they were back in the black. "That's pretty amazing for any business to do let alone a nonprofit," Dumas says. "That was due solely to the way the organization was set up through positive shared leadership and the organization being committed to continue to provide services for people and pulling through that."
Employees are appreciating the focus as last year the nonprofit had a 95.3 retention rate out of 400 team members. The nonprofit is also looking to expand by opening an older adult's program and exploring a veteran's program. "It's amazing how the organization is growing right now and it's due to the team members and their commitment to really building a great organization," Dumas says.