A Success Story – Julian Butler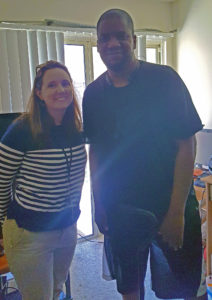 Julian Butler is a 42-year-old father of five residing in Frederick County, Maryland. In May of 2017, Julian was working as a construction worker and leading an active life when he unexpectedly suffered a stroke, also known as a CVA. He had always been very physically active, but Julian's life was drastically altered as he found himself paralyzed on his left side and unable to walk. After being hospitalized for two months at Good Samaritan Hospital in Baltimore, Maryland, Julian then spent five more months at Kennedy Krieger and Power Back Rehabilitation working hard to regain the mobility that the stroke had taken from him. Julian made significant improvements during his time in rehab. With the help of his therapists, Julian regained his strength and began to walk with the use of a walker. Julian's parents, Julian Sr. and Ann Butler, were supportive of their son throughout the whole process. They offered to provide care to him in their home to aid in his continued recovery with family by his side. In December of 2018, Julian discharged from the rehabilitation center and moved in with his parents.
In February of 2018, Ann Butler went to the Frederick County Health Department seeking resources for her son and a referral was made that day for the Community First Choice (CFC) program. She learned that this program can provide personal care for assistance with ADLs and may possibly allow, in some cases, for family members of CFC participants to become their paid caregivers. Ann learned about additional CFC services that can benefit people such as Julian, who are recovering from medical issues while living in the community.
The information was shared with Julian and he decided that this program was exactly what he needed. He learned that CFC services may include home delivered meals, personal emergency response systems, environmental assessments for safety, home adaptations, technology items, and more. Julian, like many people, prefers to receive care at home and the CFC program is designed to prevent institutionalization of individuals with medical issues.
Working with Supports Planner, Marjorie Schlosser, Julian was approved to receive 22 hours of personal care assistance every week. As an added benefit, Julian was able to choose his mother, Ann, as his personal care provider. The CFC program is person centered and Julian is able to direct his own care and increase or decrease his personal care hours, as needed. One of the added benefits to the CFC program is that Julian was able to receive an over the bedside table which allows him to keep his necessities accessible. In the future, this program will allow Julian to make revisions and requests as his needs change as he moves forward in his life.
Despite many challenges, Julian Butler has maintained a positive outlook on life. He believes his prognosis from his CVA is good and continues to work hard on his journey towards recovery. He is now using a cane for mobility and no longer relies on a walker. Julian is active again in his community and is the member of a support group on Facebook for stroke survivors. Within this online community, Julian is able to share his optimism with others going through a similar recovery process. With the CFC services in place, Julian will be able to remain independent and work toward his future goals.