A Success Story – Chester Thompson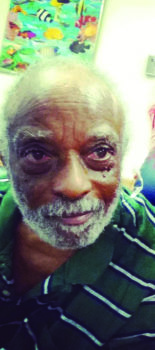 Chester Thompson was born in the summer of 1936 in Washington, DC. He grew up in the DC area where, as a young man, he married, and they raised nine children together. He was a hard worker throughout his life. Chester was a devoted father and supported his family by maintaining a long-term career as a truck driver.  Chester enjoyed an active life style and spent quality time with his children outdoors, camping, and enjoying the beauty of nature available to them in the local, scenic Virginia area.  After many faithful years of service to his trucking company, Chester retired, but continued to stay active by developing his hobbies.  Chester excelled at fine tune mechanics and enjoyed working on vehicles that both he and his friends and family members could enjoy including a variety of boats, motorcycles, and cars.
In 2006, Chester suffered a serious stroke that left him weak and struggling to regain his health.  By 2007, he had declined to the point where he required an admission to the Hebrew Home's Nursing Facility in Rockville, Maryland where he resided for ten years.  Over the course of those ten, long years, Chester's health declined further, and he eventually became bed-ridden.  Chester has a supportive and loving family.  They struggled throughout the years as they watched their father deteriorate in his environment.  Over time, he found little joy in participating in events at the nursing home and his family members were able to recognize that his quality of life had declined significantly due to the emotional effects that living in this particular setting had taken on him.  His family was convinced that he would regain his spark for life if he could be brought back into a home setting under their care and supervision.  They refused to give up and just after Christmas of 2017, a referral was made for the Home and Communality Options (CO) waiver.  They hoped to be able to utilize this program to allow their father to return safely to the community where he could live with his loving daughter, Donna, and begin to experience joy once again.
At the end of 2017, Supports Planner, Kimberly Flanagan, was assigned to assist Chester.  She worked diligently with him, his family, as well as the facility to help Chester fulfil his wishes to leave the nursing home for good.  At age 81, after ten years in an institution, Chester was able to move from the nursing home into a house in Laurel, Maryland where he currently resides with his daughter, Donna.  Support Planner, Kimberly, said he is now "thriving" in his new home environment where he was approved to receive 36 hours of personal assistance each week.  He is happier now than he has been in many years and has flourished since his return home.  His family noticed right away that his appetite increased, and his fun-loving sense of humor returned.  He now enjoys conversations and sitting outside where he can once again appreciate nature and the outdoors.  His memory has improved, and he enjoys games and puzzles with Donna on a regular basis.  Chester's health has even improved to the point where he no longer requires the use of an indwelling catheter that he needed for many years during his placement at the nursing facility.  With the help of his Supports Planner, Kimberly, Chester was able to utilize the CO Waiver to receive Transition Services which covered the cost of a new dresser and some new items of clothing.   He receives home delivered meals through the Meals on Wheels program in Prince George's County. Kimberly was also able to assist with helping him to obtain a hospital bed, a new wheelchair and an over the bed table. An environmental assessment was approved and completed which will allow Chester to make additional requests for a stair glide and front entrance ramp to be installed in his home. Kimberly assisted in arranging ongoing PT and OT via Adventist Healthcare to work on his muscle strength, stamina, balance and gait. Though he is currently bedbound, and wheelchair bound for his care, his long-term plans include being able to get out of bed successfully several times a day and to walk shorter distances using a rollator or other assistive device.
Now that he has returned to the community with the CO Waiver, Chester's children and extended family members are able to gather together once again.  As the proud grandfather of 36 grandchildren, 28 great grandchildren and 5 great-great grandchildren, Chester looks forward too many large, family gatherings in his new home.  The CO waiver services have helped Chester improve his quality of life and will continue to help him to work towards his goals of becoming more mobile and independent.