Volunteer Honored at MACS Achievement Awards 2017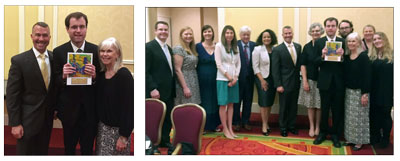 Evan is 24 years old and an accomplished musician. He is also a believer in volunteer work possibly leading to paid employment. He was recently nominated by his Coordinator and honored at this year's MACS Achievement Awards Dinner on Thursday, April 27, 2017. Each year, this event showcases the self-advocacy efforts of people we serve. Along the way Evan has been taking music theory and composition classes at Anne Arundel Community College. Evan graduated with a diploma from Hannah Moore School. He had played piano for many years and then set his sights on learning the tuba. His graduation money went toward the purchase of a tuba and lessons. He is now a member of the Anne Arundel County Concert Band where he plays the tuba. Evan is also a member of the Musical Austist, a nonprofit that provides a monthly jam session venue for musicians and sensory friendly concerts quarterly in Anne Arundel County. With an interest in the Arts Evan secured a volunteer job at Studio 39, the Anne Arundel County Public School for the Arts location in Annapolis.
He assists with compiling music sheets for performance folders for students, helps with creating stage sets and also plays the background music on the piano for vocal students' practice performances. Evan currently is volunteering 2-3 days a week at the Resource Center for Early Childhood Intervention as a receptionist. This job may become a paid position in the fall. Evan's full life is supported by Self Directed Services and he utilizes his staff to assist him with organization, separating homework into manageable portions, understanding social cues, and practicing social stories for new situations he encounters. His life also includes relaxing with some longtime friends on the weekends. The next time you hear piano music in the community, check to see if it might be Evan behind the keys!