Veterans – Resource & Recognition Day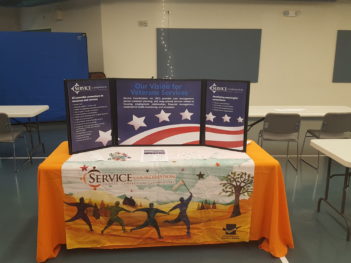 This event was hosted by the Frederick Senior Center on Wednesday, July 11 from 9 am to 2 pm and was open to anyone who served in any branch of the Armed Services, their families, caregivers, and friends.  Attendees were able to meet representatives of area agencies and organizations serving veterans. Service Coordination was represented
by Doug Silvern. John Dumas and Barry Newlin. Morning activates included the Mobile Vet Center, on-site assistance with applications, living History exhibits and free lectures which were given by Warren Grey (Who killed the Red Barron?)
and David Peters (Churchill's Favorite Spy). The afternoon included MCVET Message of Hope Choir Sponsored by AMADA Senior Care, a catered lunch by Palmtree Catering, remarks by Maryland Deputy Secretary of Veterans Affairs, Robert (Bob) L. Finn and recognition of attendees' service to our country. What an awesome event for
veterans and others that attended.