The DDA Educational Series Webinar Recordings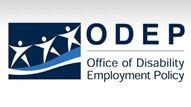 The Office of Disability Employment Policy (ODEP)'s Employment First Community of Practice  (CoP) webinar series is structured to augment the technical assistance areas of primary focus in Employment First systems change (Capacity Building, Provider Transformation, School-to-Work Transition, Employer Engagement, and Policy/Funding Alignment).
CoP participants hear from national subject matter experts (SMEs) presenting information and resources to support Employment First efforts.
January's Webinar Topic: IPS Supported Employment: Research and Practice Updates. This recorded  webinar highlights the Individual Placement and Support (IPS) model of supported employment.
IPS is an evidence-based practice for helping people with serious mental disorders achieve competitive employment.
Guest Speaker: Robert E. Drake, Vice President of the Westat Corporation and Professor (Retired), of the Dartmouth Institute on Health Policy and Clinical Practice, Geisel School of Medicine at Dartmouth, and the former Director of the Dartmouth Psychiatric Research Center.
Guest Speaker: Jackie Pogue,  Research Associate and IPS Trainer at the IPS Employment Center, where she helps states develop and sustain effective vocational programs.
If you were unable to join this month's webinar, watch it at January CoP Webinar.