Supports Planning is More Than Services, Rasimgul's Story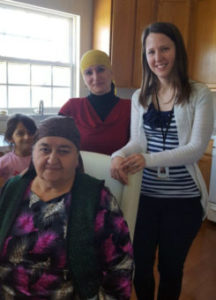 Rasimgul is a 63 year old loving grandmother of 11 grandchildren who resides in Washington County with her son Alim, daughter in law Mukhabat, and three small grandchildren ages 6-8 years old. Rasimgul has a supportive and caring family. She has suffered from memory impairment for many years and after the recent death of her husband of 40 years, she relies heavily on Alim and Mukhabat to assist her. Rasimgul speaks Ahiska Turkish as her native language and no longer understands English due to her memory issues. She has trouble recognizing some of her family members, but has developed a trusting bond with Mukhabat and will only allow her daughter in law to assist her with personal care.
Working with Supports Planner, Angie Brambley, Rasimgul is now able to receive 42 hours of personal care assistance weekly through the Community First Choice program. Through this program, Rasimgul is able to receive assistance with her daily hygiene routines including toileting, showering, dressing, brushing her teeth, grooming, and nail care. Other services Rasimgul is able to receive include assistance with cleaning that may be associated with her ADLs such as laundry and changing of her bedding, medication management, as well as assistance with the preparation and serving of her meals. These services will assist with keeping Rasimgul safe in her home and may prevent the need for nursing home care. As an added benefit, she was able to select Mukhabat as her care provider. This allows Rasimgul to receive help from the person with whom she is most comfortable. Mukhabat has lovingly cared for her mother in law for many years, but now she is able to receive a financial benefit that allows her to support her family and remain home during the day where Rasimgul relies on her for care.
Photo: Rasimgul (seated) with one of her young granddaughters (back left), daughter in law Mukhabat (center), and SP Angie Brambley (right)