Supports Planning is More Than Services, It's Quality of Life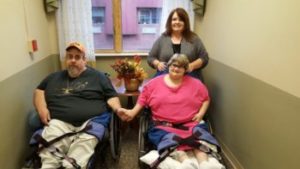 Meet Calvin and Stacy Titchenell.  Both have been diagnosed with spina bifida. They had been living together on their own in the  community for several years with the assistance of Community First Choice (CFC) services up until about a year ago. Within  months of each other, both Calvin and Stacy developed health  complications resulting in the need for nursing facility care.
Since that time, Calvin and Stacy applied for the Community Options (CO) Waiver hoping to be able to transition back to the community together. Their Supports Planner, Shonna Livengood, has been actively assisting the couple in developing plans of service that would allow for them to have their needs met in the community in a cost effective manner. The CO Waiver approval and transition process can be a lengthy one ensuring that all the needed medical services are included in the plans of service, proper documentation is provided proving the need, and accessible housing is located.
During this process, Calvin and Stacy have been living in the same nursing facility and got married this past July! A huge frustration  for the couple has been that their nursing facility would not let them  share a room. They were use to  living together in the community  and now they are legally married – how does that make sense?  Although they were able to visit each other and eat meals together,  they were not being afforded the same basic rights that married  people have in the community.
The SPS team strives to advocate the rights for all those we serve.  Knowing that nursing facility residents have the right to choose  their own roommates, Shonna was able to assist the couple in  reporting the situation to the local ombudsman. It just so happens that before the ombudsman could respond, the state surveyors visited the facility. Calvin and Stacy spoke with the surveyors  and effectively advocated for themselves. Within 15 minutes,  they were moved into the same room together. After being apart  QA Quad, FY2018 2nd Quarter Supports Planning is More Than Services, It's Quality of Life for over a year, they were elated to finally share a room together once again. Calvin and Stacy both stated that even though it is hard being in the nursing home, at least they are in the same room together now.  They can sleep, eat meals, and watch movies together like a real family!
It is uncertain at this time if Calvin and Stacy will be able to return to  the community, however Shonna can feel proud that she was able to help this couple in advocating for themselves and improving their  quality of life.