SCI HR Team Day Out
On Fridays throughout the summer, Fox5dc's morning crew hits the road to highlight cities and towns around the DMV area and the businesses that support them. They film live from each location all morning and interview the locals and show some of the sights and history for each location.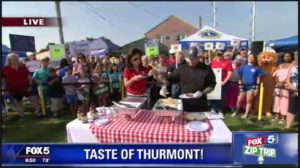 Pictured above is a shot from the live broadcast with reporter Annie Yu.
(The HR team is in the background)
On Friday, July 13, the Fox5dc crew traveled to Thurmont, MD, where area non-profits were welcomed to stop by and show or display what their company did for the community. Our HR team headed up to Thurmont bright and early on this Friday morning to share the SCI spirit with fox5dc and Thurmont.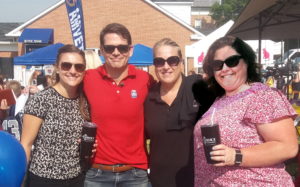 An off camera photo opp with meteorologist Tucker Barnes.