ODEP Community of Practice Webinar Recording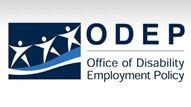 Did you this month's Office of Disability Employment Policy's (ODEP) webinar is on  Job Development in Rural America: A Maine & Tennessee Experience? If you missed it or would like to watch it again, it can be viewed here.
Subject matter experts, Gail Fanjoy and Dwayne Webb outline:
Recognizing the growing employment disparity for rural Americans with disabilities and what can we do to positively impact it;
Addressing the challenges and opportunities of job development in rural areas – focusing on issues such as poor economies, transportation barriers, and community inclusion as a pathway to jobs; and
Understanding the role technology can play in successful employment outcomes
If you would like to join ODEP's mailing list to be informed of upcoming webinars you can do so here.