National Disability Employment Awareness Month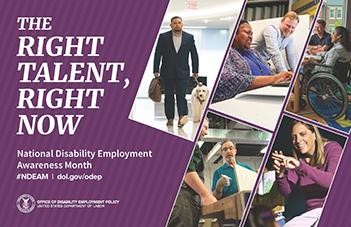 October is National Disability Employment Awareness Month. (NDEAM) Throughout this month, we'll share information, resources, and ideas for what you can do to support people with disabilities, businesses, and our communities in helping all people work.
Did you know…..
The theme for this year, created by the Office of Disability Employment Policy (ODEP) is The Right Talent, Right Now
The unemployment rate for people with disabilities is twice the rate for people without disabilities
Less than 5% of people who receive SSI (Supplemental Security Income) report any earned income (i.e. don't have income other than SSI, which is typically +/- $800 mo.)
26.8% of people with disabilities live in poverty, making it the largest group of people living in poverty
The first week of October was established for disability employment recognition in 1945, originally as National Employ the Physically Handicapped week
What can you do?
Put up a poster! The one featured below, along with other free posters are available to order on the ODEP website https://www.dol.gov/odep/
Talk about everybody working, and support the person's path to employment! Help people see employment as their first option, and help them identify their interests and skills. Check out employment resources and tools found through the Charting the LifeCourse Framework https://www.lifecoursetools.com/
Learn more about how you can help by visiting the What Can I do campaign website http://www.whatcanyoudocampaign.org/blog/index.php/what-can-you-do-toolkit/
Spread the Word! Promoting positive messages to employers and others about the skills and talents that people with disabilities bring to America's workplaces and economy is one of the biggest impacts you can have on disability employment. Engage others, and share stories of success. Proudly share the great examples out there of supported employment, so we can help families and communities move forward with us… successes need to be highlighted and need to be the norm! Check out this article from a parent: Why High Expectations Are Important – A Parent's View on Disability Employment http://thecpsd.org/why-high-expectations-are-important-a-parents-view-on-disability-employment/
October is National Disability Employment Awareness Month!  Spread the word about work, for everyone!