Ethel's Story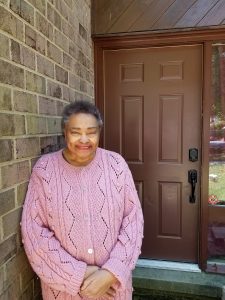 As a nurse, Ms. Ethel "Dee" Swanston-Williams had cared for others for years. She worked hard to provide for her children and help with her grandchildren. Even in retirement, she continued to volunteer with a hospice program to bring comfort and care to others. However, as she aged and her own health began to decline, Dee found herself in need of assistance as well.
When Dee began working with Supports Planner Shara Suddath in the summer of 2017, she was receiving some services through the Howard County Senior Plus program. This program provided around six hours per week of an aide as well as home delivered meals. However, due to legal blindness and the early stages of dementia, Dee needed more assistance than this program could offer her. Luckily, she had been invited to apply for the Community Options waiver from the long community registry. Working with Shara, Dee completed her application and worked on obtaining the required documentation. Together they developed a plan of service that would meet her needs and allow her to continue to live in her apartment in Columbia as independently as possible.
However, right before Dee was to start receiving waiver services, she was briefly hospitalized after forgetting to take prescribed medications and then transferred to a rehab facility. Dee met with her children and Shara, and all agreed that, for her health and safety, she should not return to her apartment and live on her own. Unfortunately, she was not able to live with either of her children at that time, and so she decided to look into assisted living facilities. Shara was able to quickly locate an assisted living facility in Columbia and, after her discharge from rehab and enrollment in the CO waiver, Dee was able to move into this ALF.
While moving to the assisted living facility was a difficult change for Dee, she enjoyed being around others. She began attending a medical day program, taking tap dancing lessons, and even began dating again. Despite her satisfaction with the assisted living facility, Dee continued to say that it just wasn't "home" to her. Fortunately, in the spring of 2019, Dee's daughter was able to look into new housing options in order to have Dee live with her. Once they located a house, Shara met with Dee and her daughter to revise her plan of service again to reflect this residence change and request personal assistance services, home delivered meals, a personal emergency response system, and other waiver services. With the support of the CO waiver, Dee was able to move from the ALF and into a home in Columbia with her daughter and two grandchildren at the end of August 2019. Even though they are busy unpacking and organizing their new home, Dee is thrilled to be with her family again, and very grateful that the support of Shara and the CO waiver services has helped her to accomplish this goal.