Mr. Reed's Story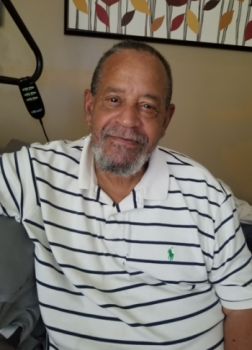 Mr. Reed was born and raised in Washington, D.C. He shared about his childhood and the hardships he experienced as he grew. Mr. Reed describes himself as a traveling man. He said, "I've kind of been a gypsy all of my life." Mr. Reed expressed that he has a love for all people and felt he "never fit inside the box." Mr. Reed loves to travel. He has lived in five different states including Maryland, New York, North Carolina, New Jersey, and Washington, DC.
Mr. Reed got married at the age of 17 and they moved to Flint, Michigan. His father had to sign a consent form so that he could get married because he was a minor. Mr. Reed has been married three times and helped raise 13 children. Three of these children were his own biological children that included two girls and one boy. Mr. Reed was a Merchant Seaman for two years and was exempt from war because he was his father's only son. Mr. Reed had various jobs as an interior decorator, carpenter and painter. He worked in the DC public schools as a carpenter. He was a roofer for the Pentagon. He had to take a Civil Services Examination for the roofing job. He was a builder for the FBI cubicles. Mr. Reed said he also worked for the DSA Federal.
Some of Mr. Reed's hobbies include having aquariums, collecting brass and glass, and putting together flower arrangements. Mr. Reed would like to write a book someday about the Kings and Queens of America. Mr. Reed described himself "not as a Christian," but as "a spiritual man." He feels he has learned a little from each religion and does what God tells him to do. Mr. Reed shared, "Always answer the door. Could be God knocking." He said this approach to life is what lead him to working with his Supports Planner, Elizabeth Peters.
Before Elizabeth began working with Mr. Reed, he had some past health concerns including two stokes and two broken hips resulting in surgical repair. Elizabeth started working with Mr. Reed in October of 2018. At that time, he was renting a basement apartment, but Mr. Reed wanted to find his own independent housing. He was also was having issues with the other individual renting another room in the basement apartment. Finding housing was very difficult for Mr. Reed, as he did not meet many income limit requirements for apartments and he did not have any rental assistance. Mr. Reed did not wish to go into another assisted living because he said his "independence is the only thing I had left." He was concerned that if he moved in an assisted living setting, he would have to have to get rid of all of his belongings. Elizabeth was able to assist Mr. Reed in finding a few apartments he could apply for, but Mr. Reed became discouraged because the waitlists at these locations were at least one year long. Over several months, the issues with the roommate got worse. Mr. Reed did not want to file a report with the police and he just continued to "deal with" the roommate issues. He kept to himself and had no informal supports. During this time, Mr. Reed came to rely on support from is aide and his Supports Planner. It came down to a final incident that made Mr. Reed interested in looking at assisted living again as an option. Mr. Reed informed Elizabeth that he did not want assisted living long term and was still interested in independent housing. His Supports Planner did some research on different assisted livings in his area and found one that offered transportation for him to come and take a tour. Mr. Reed toured and found out he was able to take his own belongings and store whatever he wanted. Mr. Reed transitioned into this assisted living early in May due to the continued support of Elizabeth.
Mr. Reed continued to be interested in seeking independent housing. During his time in his assisted living facility, he said his health has improved. He reports he felt less stressed, was eating balanced meals, and had made social connections. Mr. Reed remained positive and motivated and was able to move out of the assisted living facility In August of 2019. He now has his own space in a rental home located near Waldorf. Mr. Reed is very happy about moving. When Elizabeth went to visit Mr. Reed in his new home, he was singing, unpacking and decorating his new room. He is able to access the community, as he can use his power wheelchair and there are not steps to serve as a barrier. Mr. Reed continues to set goals for himself that he can work toward with assistance from his Supports Planner.
Mr. Reed ended with this quote: "I believe success in life is not materialistic. It's humanistic. It's about inner peace." Mr. Reed keeps a great attitude every day and makes working with him enjoyable.