Meet Steven Q Parks
(your circumstances don't define you)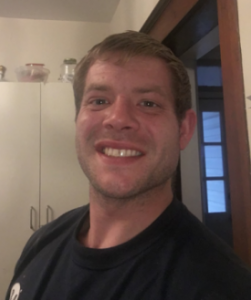 Steven Parks served in the U.S. Army from January 2012 to June 2017. Steve suffered several injuries while serving his country. Steven arrived to Frederick in late 2017. He was invited to stay with a friend until he could gain stability. Steve found himself homeless with no means of support in Frederick in March 2018, after a disagreement. Steve was referred to SCI Veterans Case Management Service. SCI Veterans' Case Manager worked with Steve to get into a local veteran housing provider in Brunswick, MD in which he was eligible. Steve was determined to overcome his circumstances. After a quick adjustment period and a plan put in place, Steve found a job through the linkage with DLLR. Unfortunately, after a few weeks of work, Steve was injured on the job, and could not continue work. Steve was able to utilize Workman's Compensation to keep his financial commitments and needs. While healing, Steve desperately needed to improve his oral health.
He was experiencing a lot of pain. He was linked to the University of Maryland Dental School where he was able to have a large amount of dental work completed for the fraction of the cost at a traditional dentist practice. The financial officer provided Steve with a convenient payment plan, in which he has paid in full. Steven is very proud of his smile. After about two months out of work, Steve felt well enough to acquire another job nearby his residence. He initially got a bike and road it to work through the winter. He currently holds this position for about 10 months. After managing resources, Steve was referred and acquired a vehicle through Second Chances Garage, and now thankfully has transportation.
Steve has a goal of becoming a Nationally Certified Personal Trainer and is in the process of completing his final exam. He wants to become a Black Hat Trainer at Soldier Fit. Steve is currently looking to leave the veterans housing agency, to make room for someone else. He says it is time to live independently. Steve says he owes much of his success over the past 14 months to SCI Case Management Services.