Leon Billups' Story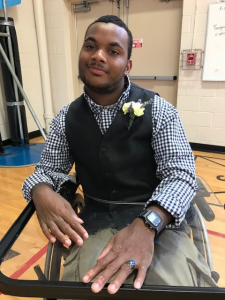 In 2018, when Leon Billups was 20 years old, he was faced with moving out of the non-wheelchair accessible home where he was living with his caregivers. The relationship between the two was strained and Leon wanted to live elsewhere.
Adult Protective Services and Disability Rights Maryland became involved, and Leon's school was doing everything they could to advocate and assist that Leon get the care and support he needed. Leon's team, including his CCS, Sharnis Smith, school staff, lawyer at DRM and APS worker advocated for Leon to receive DDA Crisis Resolution funding for residential services. Leon was approved for ongoing DDA residential funding with emergency respite in the interim.
Leon immediately began to thrive at the respite location with Quantum Leap, Inc., politely asking for his favorite flavor of Gatorade and receiving a relaxing shower in his own bathroom. Leon then moved to an accessible residence with Radiant Consulting, where he currently resides. His house-mate is close in age which was one of the important factors Leon expressed when looking for a place to live. Leon is a very strong advocate for himself and can communicate his needs and wants with the members of his team.
From the first time Sharnis met Leon and began working with him, Leon constantly talked about getting his own cell phone and PlayStation. After moving, Leon was able to get his own cell phone and PlayStation. He was able to quickly get on social media where he was able to connect with some of his biological family, including his two sisters, who attended his ring ceremony in December 2018. He was also able to connect with his mother. Building relationships with his family has bought Leon so much joy.
Leon continues to demonstrate growth and persistence; despite his past situation. He is a happy and growing young man who is full of life and is anxious to see what life has to offer. Leon is very eager to graduate, attend college and start working. Leon will graduate in the Spring of 2019 and will began day services with Quantum Leap, Inc.; his dream is to be a DJ. Leon continues to excel and thrive now that he has opportunities to do so.