Katie Masser Story
Kathryn "Katie" Masser is a 24-year-old woman who is diagnosed with Down syndrome and Hypothyroidism. She is very socially outgoing and enjoys dancing, singing, acting, swimming, and cosplaying as "Super Amazing Girl" and various Disney princesses/queens. Katie lives with her mother, Amy, who is a children's photographer. Katie left the school system in 2017 as a Transitioning Youth. She tried three different DDA providers but was not satisfied. Ultimately, she and her mom decided that a Self-Directed plan was best, and she transitioned to SDS in October of 2019. Katie and her mother identified a perfect staff, Tristen Burkholder. Tristen is full of positive and creative energy. She also shares Katie's carefree attitude and inclination to wear costumes in public (even when no one else is in costume). Later Katie also hired Tristen's mother, Rosaleen, whose personality is very similar. Katie has been thoroughly happy with herself Directed Services and is engaged in activities that she enjoys throughout her weeks.
In 2019 Katie's bloodwork showed indicators of Celiac's disease. Between this, her lack of stamina, and her increasing weight, Katie's family and doctors were concerned about her health. Katie and her team decided to make a concerted effort to address this issue. Their plan included eliminating gluten, managing calorie intake, and regular exercise.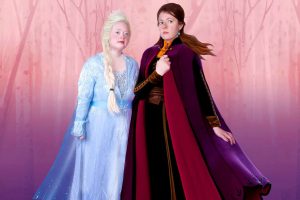 The problem was that anything overtly called "exercise" was a non-starter for Katie. This is where Amy, Tristen, and Rosaleen's positivity and creativity kicked in. Rather than getting exercise, Katie regularly embarks on adventures through enchanted forests to visit various destinations of interest. A water spirit under a bridge or a magical waterfall, for example. Katie quickly scaled up to walking at least two miles per day, five days per week. Her team also developed a menu of healthy, gluten-free foods such as chocolate pudding made with avocados.
Between January and July of 2020 Katie lost an average of 1-1.5 lbs. per week for a total of 31 lbs.! Best of all, Katie's lifestyle changes are sustainable, and she is very content. She regularly sings while out on her adventures, loves her delicious food, and thoroughly enjoys her new lifestyle. Katie is very proud of her accomplishments and was happy to share her story with our Service Coordination community.