Jeremy's Story!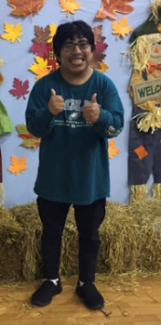 Jeremy Markovic is a 20-year-old living with his family in the Bel Air area of Harford County after being adopted and brought to the United States at a little under 6 months old. Jeremy is energetic and kind to everyone he meets. Jeremy loves music and dancing! He likes animals, especially tigers. Movies are a favorite past time, especially if they are Disney or Pixar. Jeremy enjoys talking about his family and loves to show pictures of them and where they live to everyone. Jeremy has an extensive medical history with his primary diagnosis
being Autism.
In August 2019, Sara Jacobs began working with Jeremy as his Supports Planner. Jeremy was one of the first participants Sara began working with following her transition from Baltimore to Harford County. Before working with Sara, Jeremy worked with Lauren Durham of SCI from November 2018 through
August 2019.  When Sara met Jeremy, he was already well established in many of his support services. Besides the Community First Choice program, Jeremy is also supported by Future Links (a John Archer School program), the Autism Waiver, DDA (shout out to his SCI CCS LaKeiya Mathis!), Mt. Zion community activities, and the Behavioral Health Administration. However, Jeremy has always been a strong advocate for his own independence. Working together with Jeremy, his parents, and providers, Sara was able to help develop a Plan of Service to further this goal by requesting adaptive technologies to promote learning independence in Activities of Daily Living. This revised Plan of Service was approved in February and Jeremy loves working and learning with his new technology items! Kitchen supplies such as a ring pull can opener, extra long oven gloves, cut resistant gloves, a one touch can opener, a splatter screen, a Swedish cutting board and rocker knife will allow Jeremy to learn to cook for himself or with less assistance safely. Through CFC technologies, he was also able to obtain personally adapted item that will help him complete his hygiene routine more independently.
Recently, Sara and Jeremy worked through his annual redetermination process. With the help of the Local Health Department nurse, Jeremy and his family were able to complete his assessment safely over the phone during COVID-19.  Because of COVID-19, Jeremy and his family decided to request additional temporary support hours through CFC as the day program and many of his other supports are closed. With the help of Sara, Jeremy was recently approved for a new annual Plan of Service with a temporary increase in hours. His family has stated the increased support has helped greatly.  During COVID-19, Jeremy's family has noticed some behavioral issues and are able to lean on their CFC, DDA, BHA, and Autism Waiver services for support. What a great team and support system Jeremy has during this trying time!
Jeremy's family is very thankful for Service Coordination and all the support he receives. Jeremy's confidence and satisfaction continues to grow as he continues his journey and, with the help of his family, advocates for his care and happiness.