It's Your Right..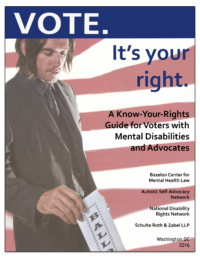 A Know-Your-Rights Guide for Voters with Mental Disabilities and Advocates
The guide was written by Autistic Self-Advocacy Network Legal Director & Director of Public Policy Samantha Crane and Policy Analyst Kelly Israel; Bazelon Center Director of Policy and Legal Advocacy Jennifer Mathis and Senior Staff Attorney Lewis Bossing; National Disability Rights Network Disability Advocacy Specialist for Voting Rights Michelle Bishop; and attorneys from the law firm Schulte, Roth & Zabel LLP, including Craig Stein, Joseph Suh, Boris Ziser, Alexander J. Buonocore, Atul Joshi, Sean D. Locklear, Richard Mertl, S. Beverly Prewitt, Wayne Teigman, Jacob B. Wentworth, and Ashley S. Whang, with assistance from Daniel L. Greenberg and Joseph Soileau.
The guide is available for download via www.bazelon.org/issues/voting. Print copies are available from the Bazelon Center; inquiries to pubs@bazelon.org or (202) 467-5730 ext 1311.