Impact Story – LaTanya Neverdon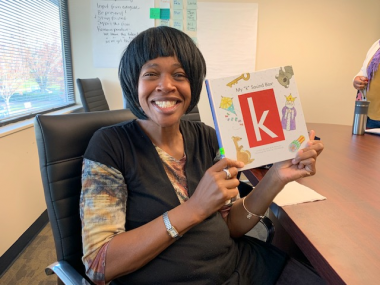 LaTanya Neverdon is served from the Baltimore City catchment. Her service coordinator, Shawn Nolan-Bateman and LaTanya have worked together for a few years. LaTanya is very proud of a major accomplishment she has recently made. She's always felt a bit self-conscious about her reading skills. She wanted to improve her abilities in this area so that she could not only read with her daughter, but also increase her chances of finding work that she enjoys. In the past, her providers selected her annual goals. At a recent PCP meeting, LaTanya made it clear that reading was important to her and that this was to be the goal that she, her Personal Support and Community Development Services providers would help her work on. LaTanya felt empowered to ask for what she wanted and has flourished.
LaTanya has been working hard at learning and practicing her reading skills every day for months. She has incorporated reading into as many aspects of her life as she can. She often visits the local library to check out new and increasingly harder books. She reads as a way to increase her computer and technology skills. And she has also begun to use the sub-titles feature on her television to practice reading in an informal way. She says that all of this will make her a better parent, employee and tenant. She is most proud of reading to her daughter. She is looking forward to helping her daughter with homework and reading her report cards. At a recent monitoring visit, she showed off her new skills by reading to her service coordinator. She did such an awesome job that her SC teared up a little.