Developmental Disabilities Day at the Legislature, February 12, 2020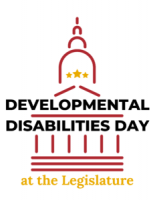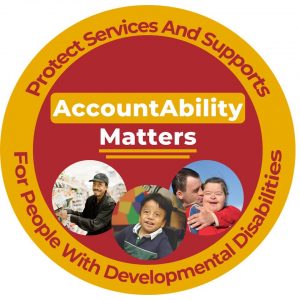 Close to 2,000 Marylanders, including 900 in person and 1,000 online, participated in the 2020 Developmental Disabilities Day at the Legislature, hosted by the Maryland Developmental Disabilities Coalition.
The theme this year was "AccountAbility Matters". Rachel London, Council Executive Director, stated "By being here today, you've shown that we turned our shared values – that all people should live their best life – into action. Keep up the fight because opportunities matter, expectations matter, experiences matter, choices matter, and accountability matters."
State officials and legislators, including First Lady Yumi Hogan, Senator Zucker, Senator Guzzone, Senator Jennings, Secretary Beatty, and Asst. State Superintendent Marcella Fransckowski, echoed the theme in their remarks to the crowd.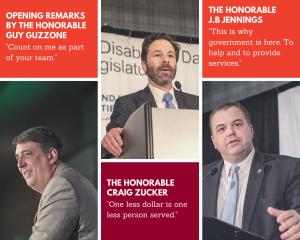 Image, from left to right, is of the Honorable Guy Guzzone, who provided opening remarks, including, "Count on me as part of your team". The Honorable Craig Zucker, who said, "One less dollar is one less person served", and finally, the Honorable J. B. Jennings, who said, "This is why the government is here. To help and to provide services."
The morning concluded with priority legislation briefings, including the FY21 DDA budget, Direct Support Workforce, Support for Children with Disabilities, Election Law, and DDA Program Changes.
Priority Legislation Fact Sheets