Abby's Story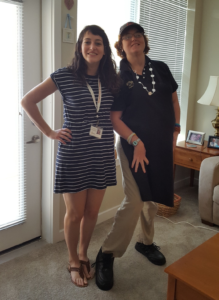 Abby is a 35-year-old who works at Wegman's and received Supported Employment services from Abilities Network. In the future, Abby wants to be the manager of a coffee shop. Abby was living in a Richcroft residential site for over ten years. Utilizing the new Person-Centered Planning process which provides the framework for people in our community to truly realize person-centered lives, she expressed no longer wanting to live at the house. Abby and the team worked together to find Abby a home she liked that was safe and affordable. Abby now lives independently in an apartment with drop-in supports. When asked about her apartment, Abby could not contain her excitement about how much she has been enjoying living there. Abby plans to have an "open house" event soon to show her family and friends how much she loves her new home.
Abby's story is just one of many being shared by coordinators around the state. We appreciate the support and collaboration of all team members in helping to positively impact the lives of everyone served through this new process.
While there is still much to be learned by all stakeholders, coordinators of community services are beginning to see the positive effects of this phase of the DDA Transformation.