Carl Long's Success Story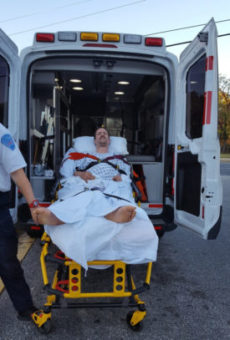 In the fall of 2016, Carl Long was hospitalized for treatment of a devastating anoxic brain injury due to a heroin overdose. This brain injury left him unable to move his extremities and swallow on his own as well as with many other physical and mental challenges. Upon discharge from the hospital, Carl was transferred to a nursing facility for rehabilitation and 24-hour care.
After several months of rehabilitation, most of the nursing facility staff doubted Carl's ability to return to the community and live successfully. His needs are many including: tube feeding, oral suctioning, wound care, physical and speech therapy, repositioning, bathing and hygiene, mechanical lift use, etc. However, Carl's finance Jean Oliver was determined to find a way to take care of him at home. And although she was dedicated to caring for him, she alone would not be able to provide him with the 24-hour care he needed. That's when they learned about the Community Options (CO) Waiver and its services. Upon applying for the Waiver, Carl was assigned a Supports Planner, our very own Nicole Weller.
Nicole jumped right in and advocated for Carl and Jean when others doubted his move to the community. She assisted the couple in developing a comprehensive Plan of Service (POS) that included both CO Waiver services and Medicaid State Plan services. The CO Waiver services included 60 hours of personal assistance service per week, monthly nurse monitoring, 2hrs+ of supports planning monthly, an environmental assessment (to determine in home safety adaptations needed) and a personal emergency response system (for fall alerts.) The Medicaid State Plan services included Disposable Medical Supplies (tube feeding, suctioning, incontinence supplies, etc.), Durable Medical Equipment (hospital bed, air mattress, tube feeding pump, suction machine, etc.), and Home Health Care (wound care, physical and speech therapy.) Everyone's hard work paid off as the POS was approved for Carl's transition back to the community.
Throughout this process Nicole kept in mind that one of Carl's goals was to return to the community before his one-year anniversary of being admitted to the nursing facility. Guess what?! They made it! Carl transitioned from the nursing facility to his and Jean's apartment in the community on October 31, 2017 and spent the holidays in his home with his caring family. I am happy to report that with Nicole's assistance and coordination of services, Carl and Jean continue to live successfully together in the community.