A Success Story – Jacqueline "Jackie" Shumac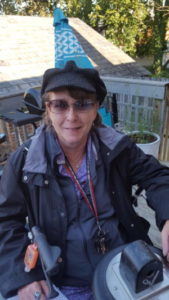 Jacqueline "Jackie" Shumac is a fun and dynamic 58 year old Maryland resident currently being served by Service Coordination. Born in California, Jackie later settled for a time in Virginia before moving to the Baltimore area. She tells people that she has "lived everywhere" and enjoys sharing stories about her travels throughout the world. When Jackie was born, her parents were given the news that their daughter would not make it past the first year of life due to a birth defect affecting her brain. For this reason, Jackie's mother treated Jackie as the "baby" of the family and held a special fondness for her growing up. Jackie overcame the odds and survived. Jackie was the only girl of three siblings. She remains close to her brothers and feels they provide constant support. She appreciates their encouragement and feels that with their help, she has learned to be more self-sufficient than many people originally believed she could be. This value has served Jackie well in her life and she has become a strong, outspoken individual. Jackie has a "lively spirit" and the ability to advocate for her own needs. Jackie is hard worker and spent many years in Virginia employed at the office of the County Executive. Jackie is now a divorced mother of one son. Her son has recently married and although he does not live nearby, he stays in regular contact with his mother.
A few years ago, Jackie suffered a stroke that left her with chronic pain and limited mobility. Swelling in her head lead to the placement of a titanium stent in her forehead in 2012. Jackie fought hard to regain the abilities she had lost, but the results of the stroke combined with repeated falls, migraines, as well as a carpal tunnel surgery on her left wrist made recovery a slow and difficult process. For this reason, Jackie was advised that she could benefit from placement in a long term care facility and she was admitted to Transitions Health Care Nursing Home. After almost two years in long term care, she applied for the Community Options Waiver. Supports planner Sharnele Ranson met Jackie in April of 2017. Sharnele quickly learned that Jackie felt the timing was right to leave this institution and move into an environment where she could be more independent. Jackie shared with Sharnele that she desired to have her "own space" and that she would like to venture into the community on her own once again. Sharnele discussed with Jackie the choices available through the Community Options (CO) Waiver. Sharnele let Jackie know that Assisted Living is a service that can be offered to those who qualify with the CO Waiver. Jackie felt this option would best meet her current needs while providing more independence that she longed for. Sharnele was able to locate an Assisted Living community in Jackie's preferred area with an available room. Sharnele assisted with all aspects of the transition into this new location to ensure things went well. Next, Sharnele assisted Jackie with obtaining a motorized wheelchair which allowed Jackie to go places on her own once again. Jackie was very pleased with the freedom that this chair returned to her.
Unfortunately, Jackie's assisted living could not accommodate this particular chair due to the size. Once again, Sharnele was able to help. A year after transitioning from the nursing home into the first Assisted Living community, Sharnele helped Jackie to relocate into a second Assisted Living called K and R's. Sharnele spend many hours researching and made many phone calls to ensure that this location would provide all the accommodations Jackie needed. This new location met all of Jackie's needs and had enough space for the motorized chair that had become so important to her.
Jackie is grateful to Sharnele for all the assistance she has provided. Sharnele went above and beyond by assisting Jackie to move on two occasions. Sharnele said she enjoys working with Jackie because "she is one in a million with her character and her personality." Jackie and Sharnele have formed a strong bond. Sharnele shared that Jackie taught her "to never give up, to stand firm, and to speak up for yourself." Sharnele said, "I look forward to continuing to work with Jackie so that I can help her to live the best life possible!"