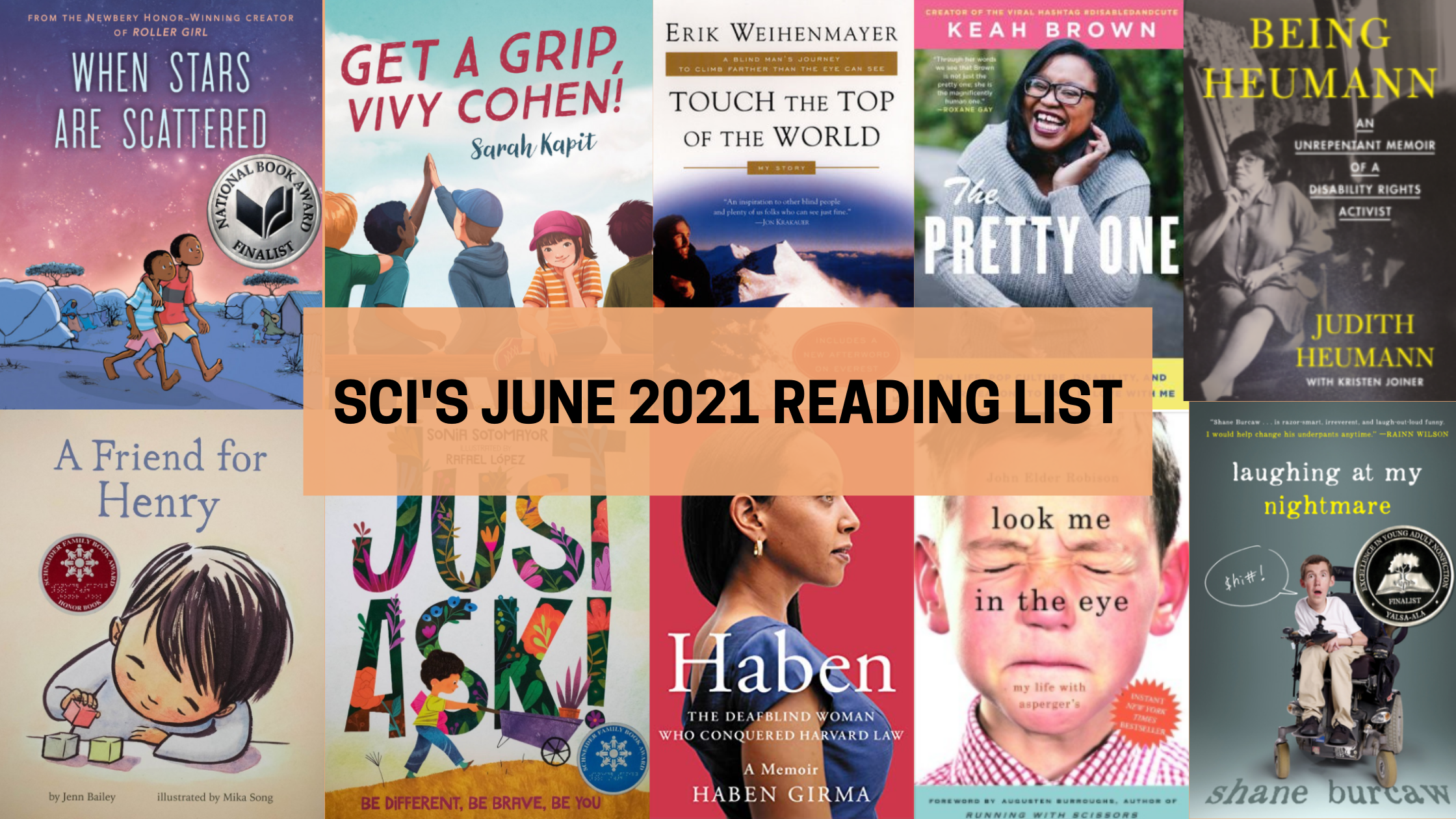 Spend this summer exploring the world without ever having to leave your chair! From teaching us about ourselves and others to opening us up to new adventures, there is nothing like a good book!
We have put together a summer reading list to help you get started on your journey. Below are some amazing reads from some of our favorite authors with disabilities.  Hopefully, you will find a new favorite to add to your list! 
Touch the Top of the World: A Blind Man's Journey to Climb Farther Than the Eye Can See. by Erik Weihenmayer
"Erik Weihenmayer was born with retinoscheses, a degenerative eye disorder that would leave him blind by the age of 13. But Erik was determined to rise above this devastating disability and lead a fulfilling and exciting life. In this poignant and inspiring memoir, he shares his struggle to push past the limits imposed on him by his visual impairment – and by a seeing world." SOURCE
Haben: The Deafblind Woman Who Conquered Harvard Law, by Haben Girma
"Haben takes listeners through a thrilling game of blind hide-and-seek in Louisiana, a treacherous climb up an iceberg in Alaska, and a magical moment with President Obama at the White House. Warm, funny, thoughtful, and uplifting, this captivating memoir is a testament to one woman's determination to find the keys to connection." SOURCE
Look Me in the Eye: My Life with Asperger's, by John Elder Robison
"Ever since he was young, John Robison longed to connect with other people, but by the time he was a teenager, his odd habits—an inclination to blurt out non-sequiturs, avoid eye contact, dismantle radios, and dig five-foot holes (and stick his younger brother, Augusten Burroughs, in them)—had earned him the label "social deviant." It was not until he was forty that he was diagnosed with a form of autism called Asperger's syndrome. That understanding transformed the way he saw himself—and the world. A born storyteller, Robison has written a moving, darkly funny memoir about a life that has taken him from developing exploding guitars for KISS to building a family of his own. It's a strange, sly, indelible account—sometimes alien yet always deeply human." SOURCE
The Pretty One: On Life, Pop Culture, Disability, and Other Reasons to Fall in Love with Me, by Keah Brown
"Keah Brown loves herself, but that hadn't always been the case. Born with cerebral palsy, her greatest desire used to be normalcy and refuge from the steady stream of self-hate society strengthened inside her. But after years of introspection and reaching out to others in her community, she has reclaimed herself and changed her perspective." SOURCE
Being Heumann: An Unrepentant Memoir of a Disability Rights Activist, by Judy Heumann
"A story of fighting to belong in a world that wasn't built for all of us and of one woman's activism—from the streets of Brooklyn and San Francisco to inside the halls of Washington—Being Heumann recounts Judy Heumann's lifelong battle to achieve respect, acceptance, and inclusion in society. Paralyzed from polio at eighteen months, Judy's struggle for equality began early in life. From fighting to attend grade school after being described as a "fire hazard" to later winning a lawsuit against the New York City school system for denying her a teacher's license because of her paralysis, Judy's actions set a precedent that fundamentally improved rights for disabled people." SOURCE
Laughing at My Nightmare, by Shane Burcaw
"Shane Burcaw's Laughing at My Nightmare describes the challenges he faces as a twenty-one-year-old with spinal muscular atrophy. From awkward handshakes to having a girlfriend and everything in between, Shane handles his situation with humor and a "you-only-live-once" perspective on life. While he does talk about everyday issues that are relatable to teens, he also offers an eye-opening perspective on what it is like to have a life threatening disease." SOURCE
For our younger readers…
A Friend for Henry, by Jenn Bailey
"In Classroom Six, second left down the hall, Henry has been on the lookout for a friend. A friend who shares. A friend who listens. Maybe even a friend who likes things to stay the same and all in order, as Henry does. But on a day full of too close and too loud, when nothing seems to go right, will Henry ever find a friend—or will a friend find him? A story from the perspective of a boy on the autism spectrum."  SOURCE
Just Ask! Be Different, Be Brave, Be You, by Sonia Sotomayor
"Feeling different, especially as a kid, can be tough. But in the same way that different types of plants and flowers make a garden more beautiful and enjoyable, different types of people make our world more vibrant and wonderful." SOURCE
Get a Grip, Vivy Cohen! by Sarah Kapit
"Vivy Cohen wants to play baseball. Ever since her hero, Major League star pitcher VJ Capello, taught her how to throw a knuckleball at a family fun day for kids with autism, she's been perfecting her pitch. And now she knows she's ready to play on a real team. When her social skills teacher makes her write a letter to someone she knows, she writes to VJ and tells him everything about how much she wants to pitch, and how her mom says she can't because she's a girl and because she has autism. And then two amazing things happen: Vivy meets a Little League coach who invites her to join his team, the Flying Squirrels. And VJ starts writing back." SOURCE
When Stars Are Scattered, by Victoria Jamieson and Omar Mohamed
"Heartbreak and hope exist together in this remarkable graphic novel about growing up in a refugee camp, as told by a Somali refugee to the Newbery Honor-winning creator of Roller Girl." SOURCE
Summer can still mean hitting the books and the list above will only get you started. Share your great summer reading finds with us by tagging our Facebook page and even sharing a photo of a book you can't seem to put down, all summer long!