Impact – Dana's Story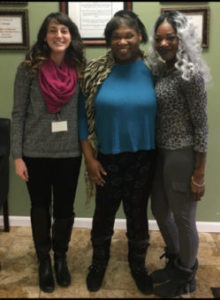 Dana is a 44-year-old female that has diagnoses of Deafness and Autism. Dana was previously in the WL-CR category, but is now in the CC category and receives day habilitation services from eMerge. Dana refers to the day program as "school", and is happy going there each day. eMerge is in the process of making Dana a badge, which she is already looking forward to wearing.
Dana began attending eMerge in October 2017. At the day program Dana participates in various activities that include going to the movies, the mall, parks, playing games, and her favorite activity – shopping. Dana also works on safety skills such as crossing the street and how to interact with people she is unfamiliar with.
Attending eMerge has assisted Dana to meet and interact with other Deaf individuals. Dana is constantly working on learning more ASL and communicating with others.
When the SC asks Dana what she thinks of eMerge, Dana has always told the SC that she likes it and she has lots of friends there. Dana is excited that she has the opportunity to grow and continue her services there.